Swiss pine soft toy cow Emma helps children sleep deeply and peacefully.
Surrounded by choice Swiss pine wood, your child will have a relaxed sleep – like being in fresh Tyrolean mountain air.
At home, when traveling or in a strange environment, soft toy cow Emma gives children a feeling of well-being. The soft belly of the toy is filled with a (removable) bag containing natural, soft stone pine flakes. This bag releases a pleasant resinous fragrance for up to 12 months.
Stone pine shavings from handpicked production – the best of Tyrol's high forests.
The wood of the stone pine naturally contains essential oils (Pinosylvin). The medically safe substances have a calming effect, prevent weather sensitivity and help your child fall asleep more quickly.
Lovingly designed with optimal child safety.
The velvety, creamy white/light brown flecked fabric cover is perfect for snuggling. The mouth and ears are accentuated with delicate pink. Emma also wears a cheery (removable) floral scarf. Her lovely face is stitched so nothing can become loose. Body with concealed zip. Removable bag of stone pine, childproof closure with cable ties.
Easy-care and naturally antibacterial.
Swiss pine contains pinosylvin which naturally repels moulds and bacteria. Regular airing is enough. Emma is machine washable without the pine wood bag. Shell: Velour. Filling: Velour. Size 38 x 18 x 12cm (15.0" x 7.1" x 4.7") (L  x W x D). Weight 0.35kg (0.8 lbs). With scarf in either pink or blue.
Recommended by a doctor.
"The amount of essential oils released from stone pine shavings can have a positive effect on the well-being and sleeping behaviour of toddlers and babies and is safe to use."
Prof. Dr. med. J. Peter Guggenbichler, February 2018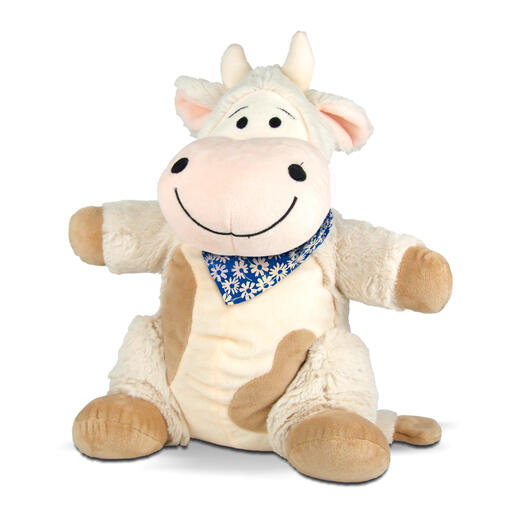 Be the first to review this product