Click & Fresh Storage Dish, Set of 2
From the Pro-Idee Special Shop
Cuisine
Click & Fresh Storage Dish, Set of 2
From the Pro-Idee Special Shop
Cuisine
The sustainable alternative to disposable foil and single-use packaging.
Ingenious storage dishes with click-on lid made of flexible durable film. Permanently reusable.
Cheese and cold meats, fish, steaks, etc., stored in the ingenious Click & Fresh dishes stay fresh in the fridge and are stored hygienically. Disposable foil and single-use bags are superfluous. This saves you from extra rubbish and protects the environment.
Suitable for all food up to 3cm (1.2") thick.
Much more space-saving than usual storage containers. The flexible, permanently integrated film in the lid encloses the food and returns to its original shape after each use. Any leaking fluids collect in the grooves under the food.
Prepared foods can be heated directly in the dishes in the microwave (please remove the lid).
Made of BPA-free plastic. Removable lid with click closure. Dishwasher, microwave and freezer safe. Stackable (flat). Size (W x H x D): 30.5 x 3 x 23cm (12" x 1.2" x 9.1"). Weight: 264g (9.3 oz).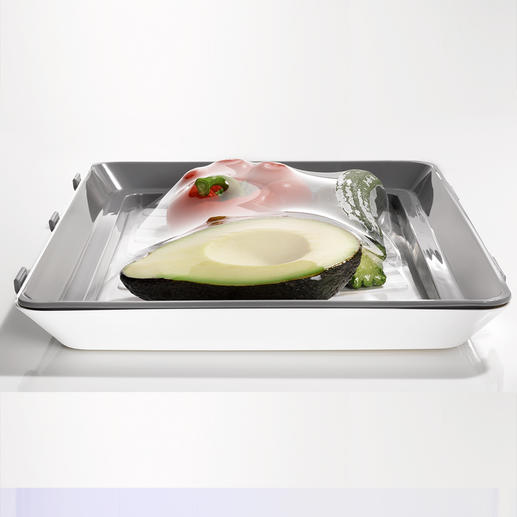 Be the first to review this product