Goodbye
As a result of the Brexit, Pro-Idee has closed its UK online shop and stopped deliveries from the Continent to the United Kingdom.

You have shopped with us in the past and your Pro-Idee product has developed a fault within its guarantee period? No worries, we're still here for you. Please simply contact us by mail to service@proidee.co.uk. We'll be happy to find a solution for you.

If you wish to have your order delivered to an address outside the UK, we invite you to continue shopping in our German, French, Dutch, Austrian or Swiss online shop.

We thank you much for the continuous support throughout the years.
Sleeveless shirt, Round neck or V-neck
Look smart and neatly dressed;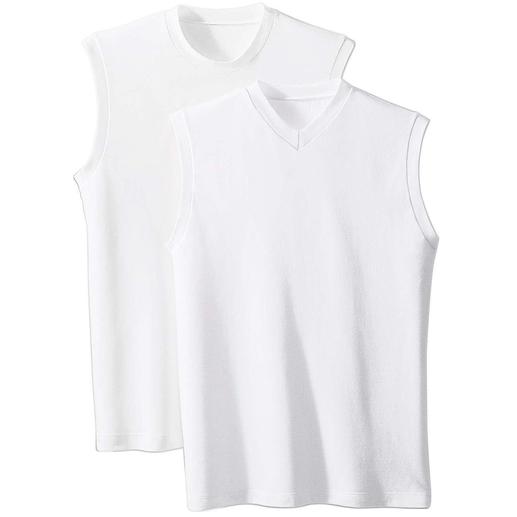 The round neck T-shirt has a small trim and looks casual but still proper worn under a slightly opened shirt collar.
Round neck
Round neck
V-neck
V-neck
Sleeveless shirt, Round neck or V-neck
Look smart and neatly dressed;
White T-shirts actually make ideal vests. However, with ordinary T-shirts, the sleeves show through the fine material of a good shirt, which doesn't look right. These close-fitting, high-quality shirts, on the other hand, mean that there is nothing to see. You can choose between a round neck – a fresh casual look under an open collar – or a V-neck shirt that will be completely hidden under your shirt or polo-collar sweater if the top button is left undone. Fine, durable, supple single jersey is kind to the skin, absorbs perspiration and allows ventilation.

The shirts run rather large so we recommend ordering a size smaller than you usually would. Length in size 40: 72cm (28.3"). Machine wash. Colour: White. 100% cotton. Exclusive to ­Fashion ­Classics.