Goodbye but not Farewell ...
As a result of the Brexit, Pro-Idee is temporarily closing its UK online shop (www.proidee.co.uk) until further notice. We apologise for the inconvenience. Everything you might want to know about the situation is to be found in the FAQs below. It will surely help you navigate through this change and answer the most frequent questions you might ask yourself regarding ordering, shipping, delivering and many other areas which are impacted by the closing of our online shop. As we remain committed to curating a unique selection of high quality products, we invite you to continue shopping in our German, French, Dutch, Austrian or Swiss online shop if you wish to have your order delivered to an address outside the UK. We thank you for the continuous support throughout the years and we hope to be able to reopen our UK online shop in the near future.
Silicone Waffle-Baking Pan, Set of 2 Pieces
Enjoy waffles without the wait.
From the Pro-Idee Special Shop
Cuisine
The waffles can be easily removed from the flexible silicone baking pan.
Enjoy waffles without the wait.
6 delicious waffles at a time: straight from the oven. No overflowing dough, no time-consuming cleaning.
Only one or two waffles at a time can be made in a waffle iron – here, you have 6 waffles on the table, all at once. Fresh from the oven, deliciously crispy and evenly baked and browned on all sides. There's no longer any need to wait to enjoy waffles, no one has to work while the others have already started eating. And none of the dough will overflow, stick to the pan or dirty your counter.
The waffles can be easily removed from the flexible silicone baking pan.
Baking time 10 - 12 minutes. 100% platinum silicone: BPA free, tasteless, fruit acid resistant, temperature resistant from -40°C to +240°C. To clean, wipe with a damp cloth or drop it in the dishwasher. Two 29 x 14.5cm (11.4″ x 5.7″) baking pans, each making three 1.5 x 8 x 13.5cm (0.6″ x 3.1″ x 5.3″) waffles (H x W x L). Each weighs approx. 80g (0.176 lb). 2 recipes for both sweet and savoury waffle dough are included. In addition to our long-term guarantee, the manufacturer provides a 15-year guarantee.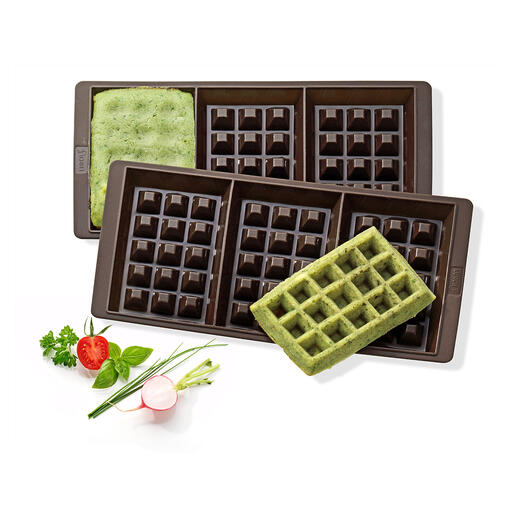 Be the first to review this product