This clothes valet of finest quality is beautiful, simple and functional.
Practical helper and also an elegant sculpture. Made of chromed steel and leather.
With this butler you have the perfect good spirit in your house. If required, it discreetly stands ready to take care of your wardrobe in style. Your jackets and shirts can air optimally on the narrow, yet load-bearing hanger. Carefully hung over the oval arm, your trousers can be smooth even overnight. Even ties and belts can be placed on it, ready to hand.
When not in use, the stylish butler blends into any setting.
With a restrained design, the butler harmonises with classic and modern furnishing styles. The high-grade, shiny chrome-plated steel together with cognac-coloured leather radiates quality and pure elegance.
Manufactured by professionals with close to 100 years of experience.
The pieperconcept company has been manufacturing clothes hangers since 1924: A wealth of experience that is reflected in every detail. The arched, metal-reinforced, leather-covered temple follows the natural shoulder line. Without dents, your jackets, blazers will once again assume their impeccable fit. In addition, the leather is particularly easy on the fabric. As carefully as if placed over the arm of a professional butler, your cloth trousers, chinos, jeans, etc., smooth out over the trouser hanger. Also perfect for women's clothing. Load-bearing, stable stand made of chrome-plated steel and large base plate of the same material (47 x 22 x 0.5cm (18.5″ x 8.6″ x 0.2″). Measures a total of 106 x 47 x 22cm (41.7″ x 18.5 ″x 8.6″) (H x W x D). Weighs 6.5kg (14.3 lbs). Easy to clean and can be wiped off. Design: Thomas Stark.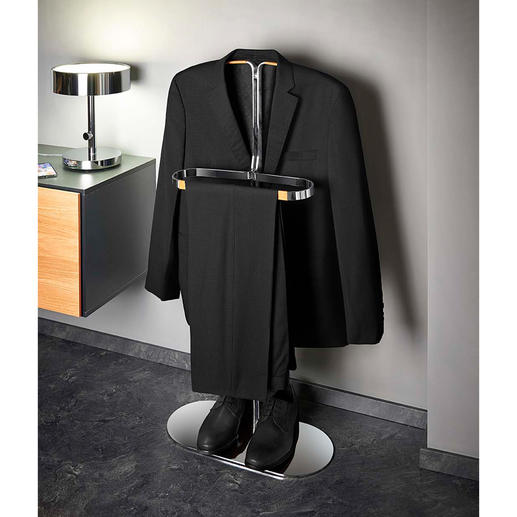 Be the first to review this product