05.04.2020 - We are still here for you. Standard delivery currently takes about about 5 to 7 working days. Mohr
Hard to find: A cardigan that really does perfectly match your favourite jeans.
Stone-washed and authentic indigo dyed. By Piece of Blue/Denmark, since 1955.
"Piece of Blue" from Denmark has done it: Their fashion designers have come up with cotton cardigans that easily survive washing at 40°C and even the dreaded tumble dryer. How they do that remains the Danes' well-kept secret. But it works.
Still very hard to find: A cardigan with the authentic look of a pair of jeans – stone-washed.
The garment is dyed like a pair of jeans with natural indigo blue and washed with volcanic stones for the unique look. With three patch pockets.

Straight style. Length in size 40: 69cm (27.2"). Colour: Indigo blue. 100% cotton. Machine washable.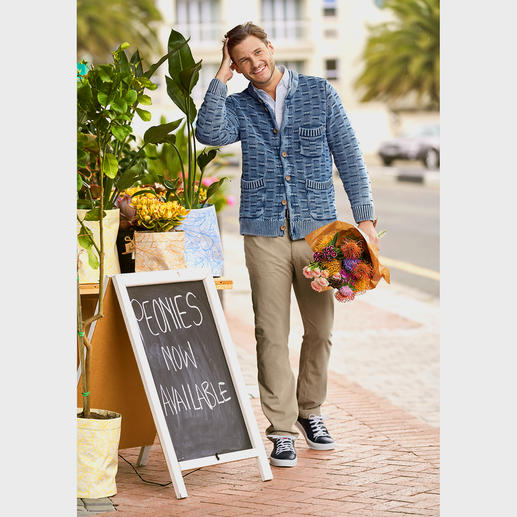 These on-trend pieces go well with 'Indigo Cardigan':
Be the first to review this product