03.04.2020 - We are still here for you. Standard delivery currently takes about about 5 to 7 working days. Mohr
The best cashmere pills less.
Ideal fit.
The best cashmere pills less.
Ideal fit.
A rare luxury indeed: Dreamy soft, thick socks made of 100% 2-ply cashmere.
Treat your feet after a hard day.
Socks knitted from pure cashmere wool are incredibly hard to find. And socks made from pure 2-ply cashmere are almost impossible to come by. Happily Corgi – the traditional knitwear company from Wales – still produces this prized classic sock today.
The best cashmere pills less.
Only the downy-soft undercoat of the Cashmere goat, each hair measuring at least 38-40mm and just 15-16 microns in diameter, are spun into the rare 2-ply yarn in the "Hinchliffe" spinning mill, in operation for over 250 years. Corgi transform this yarn into a wonderfully, fluffy, downy-soft knitted fabric. It is astoni­shingly robust for cashmere, since the long fibres hardly pill at all. No comparison to cheaper cashmere from other countries. Still: Even when processed into 2-ply, pure cashmere is a delicate yarn. So these luxurious socks are not suitable to wear in rough or unlined shoes. Ideal inside the home to keep feet toasty. As alternative slippers.
Ideal fit.
The socks are elaborately fashioned to fit the shape of the foot with a smooth, knitted foot section. Extra long shaft in a 3x1 ribbed pattern perfect for scrunching. Elasticated threads are knit in to keep ribbing from slipping. Given proper care, a luxury that will last and last.

100% cashmere. Hand washing recommended. For men and women.
Royal comfort – from the court supplier to the Prince of Wales.
Rhys Jones founded his company which specialised in first-class knitwear in the Welsh village of Ammanford in 1892.
Corgi still nurtures the traditional methods of artisan knitting and the corresponding supply is scarce. You can get knitwear from Corgi all over the world, but only in a handful of exquisite shops. From the outset, the use of only the best materials is what distinguishes the products of the prestigious house from other knitwear. Corgi was given the honour of being the first manufacturer to receive the Royal Warrant to the Prince of Wales as the court supplier of knitwear and hosiery.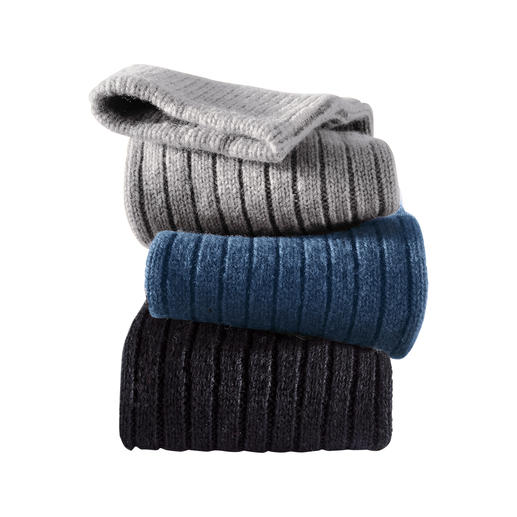 Be the first to review this product