04.04.2020 - We are still here for you. Standard delivery currently takes about about 5 to 7 working days. Mohr
Seersucker striped trousers
Seersucker striped trousers
Light and airy. Uncomplicated and easy-care.
The perfect summer trousers for 2020: Highly fashionable cut. Airy-light fabric classic.
The striped trousers of seersucker fabric.
Wide legs, baggy cut, 7/8 length, XL cuffs, deep pockets: The casual cut, the fine stripes and the colourway are the height of fashion. There are many similar models – but hardly any in the classic seersucker fabric. Amazing! Because hardly any other material is so refreshing to wear in the summer.
Light and airy. Uncomplicated and easy-care.
Thanks to its crepe structure (the result of alternating loose and tightly woven threads), seersucker floats lightly away from the body, lets air circulate and has a pleasantly cool feel. A plus in care: The fabric does not crease, and retains its typical structure after washing. You don't have to iron these trousers, just a quick press if needed.

Relaxed cut. Inseam in size 12: 68.5cm (27″), leg width at hem: 46cm (18.1″). Colour: Taupe/White. 99% cotton, 1% elastane. Machine washable.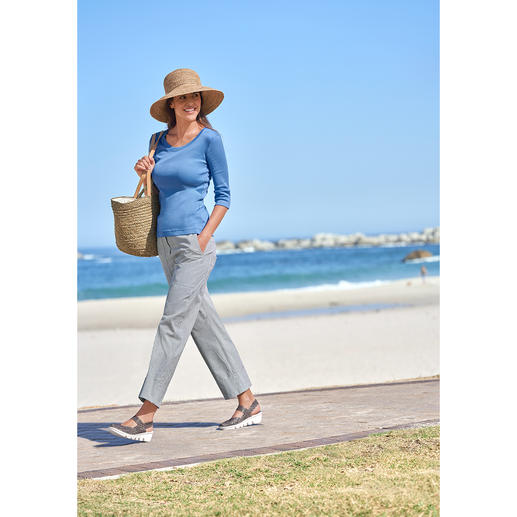 These on-trend pieces go well with 'Seersucker striped trousers':
Be the first to review this product