Goodbye but not Farewell ...
As a result of the Brexit, Pro-Idee is temporarily closing its UK online shop (www.proidee.co.uk) until further notice. We apologise for the inconvenience. Everything you might want to know about the situation is to be found in the FAQs below. It will surely help you navigate through this change and answer the most frequent questions you might ask yourself regarding ordering, shipping, delivering and many other areas which are impacted by the closing of our online shop. As we remain committed to curating a unique selection of high quality products, we invite you to continue shopping in our German, French, Dutch, Austrian or Swiss online shop if you wish to have your order delivered to an address outside the UK. We thank you for the continuous support throughout the years and we hope to be able to reopen our UK online shop in the near future.
Anikas "Bollerbuks", 7/8 length
Nothing is comfier. "Bollerbuks" trousers.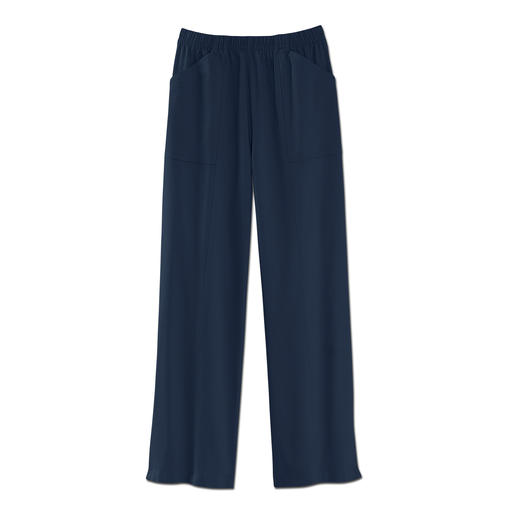 Navy
Taupe
Taupe
White
White
White
White
White
White
Anikas "Bollerbuks", 7/8 length
Nothing is comfier. "Bollerbuks" trousers.
When Anika, from Aerøskøbing in Denmark, goes for an evening stroll in the direction of the lighthouse, her hands deep in her pockets, she enjoys the fresh sea breeze – and her exquisitely comfortable "Bollerbuks" trousers. On land or on deck, to laze in or stroll around your holiday resort – you will be delighted how comfortable a good-looking pair of trousers can be. Wonderfully unrestricting, wide cut, and with a broad, soft, topstitched elasticated waist instead of a pinching waistband.
The trick with pockets and seams:
Flat patch pockets make small bulges disappear like magic. Vertical French seams at the front accentuate the length and elongate the figure. Small side slits at the hem draw attention to the ankles. Flat shoes, for example ballerina pumps or espadrilles round off the look particularly well.

Wide, comfy fit. Inseam in size 12R: 66cm (26"). 98% cotton, 2% elastane. Machine wash.