Goodbye but not Farewell ...
As a result of the Brexit, Pro-Idee is temporarily closing its UK online shop (www.proidee.co.uk) until further notice. We apologise for the inconvenience. Everything you might want to know about the situation is to be found in the FAQs below. It will surely help you navigate through this change and answer the most frequent questions you might ask yourself regarding ordering, shipping, delivering and many other areas which are impacted by the closing of our online shop. As we remain committed to curating a unique selection of high quality products, we invite you to continue shopping in our German, French, Dutch, Austrian or Swiss online shop if you wish to have your order delivered to an address outside the UK. We thank you for the continuous support throughout the years and we hope to be able to reopen our UK online shop in the near future.
Travel Slippers
Travel slippers you can also run through the washing machine.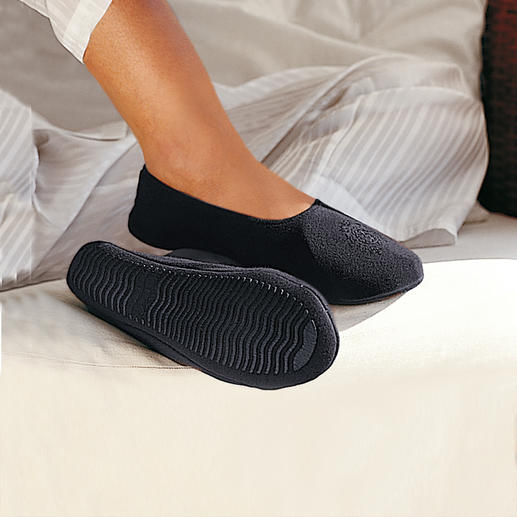 Travel Slippers - As comfortable as walking barefoot.
Travel Slippers
Travel slippers you can also run through the washing machine.
On long flights, in the hotel, as a car passenger, or relaxing at home: Wear these slippers, and all you'll feel is softness and cosy warmth. They will protect your feet from dirty floors away from home.
Supple as a gym shoe and like a second skin, they follow your every move. The elasticated opening fits comfortably without pinching. Walking on the rubberised non-slip padded sole almost feels like walking on moss. Even after frequent travelling and washing they will still look like new.

Weigh only 2.5 oz (70g). Uppers, lining and insole: 90% cotton, 10% elastane. Outsole: Rubber. Machine wash. Colour: Black. Exclusive to ­Fashion ­Classics.