Enduring design. Indestructible quality. Cult status since 1947.
Now hot and fashionable again: Original palladium boots.
A former tyre company in the aviation industry switched to produce canvas boots with vulcanised rubber soles after the end of the war. And this is how the first "palladium" was born. The robust, and at the same time airy shoes proved themselves in desert operations for the French Foreign Legion­naires, accompanied worldwide expeditions in the 60s and became a cult shoe in the 90s on the grunge and rave scene. Now, they are experiencing another revival.
From trekking shoe to catwalk trend.
Only slightly modified over the years and unmistakeable due to the shaft with buttons. The casual style and the grey colour favoured by explorers go perfectly with the new military look, cargo pants, skinny jeans, shorts, shirt dresses, ...
Easily washable in the machine.
Durable, airy cotton canvas, protec­tive rubberised toe cap, reinforced heel, non-slip profiled sole and 7-eyelet lacing.

Colour: Grey. Upper, lining and insole: Textile. Outer sole: Rubber.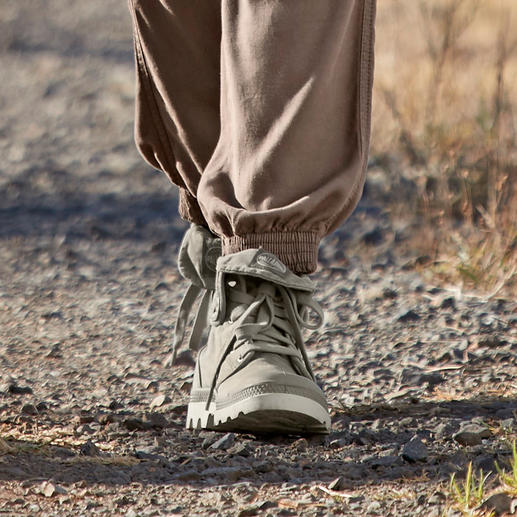 Be the first to review this product