Luxurious yarn for featherlight cosiness.
Luxurious yarn for featherlight cosiness.
Rare cobweb knit. Airy and still a fully fashioned knit.
The pullover only weighs 1.8 oz and is perfect worn over a blouse, shirt or top.
It will be hard to find one as light and versatile as this one. This pullover is knit as intricately as a heavy luxury pullover and is fashioned on hand-knitting machines. Very few knitting machines can cope with yarn as delicate as this, and the Irish quality knitwear manufacturer Carbery is probably the only one to have fully mastered the art. He quite appropriately calls the filigree knit "cobweb".
Luxurious yarn for featherlight cosiness.
The perfect companion on warm or cooler days, either with a close-fitting blouse or T-shirt underneath for full coverage or sheer with a seductive silky camisole top. And it is so beautifully finished you can even wear it over strapless evening attire. Weighing less than a bar of chocolate, it will fit into the smallest handbag. The fine blend of expensive mohair, wool and polyamide makes this pullover incredibly soft, hardwearing and never scratchy.

Classic style with V-neck. Length in size 12: 64cm (25.2″). 65% mohair, 30% polyamide, 5% wool. Hand wash. Made in Ireland. Exclusive to ­Fashion ­Classics.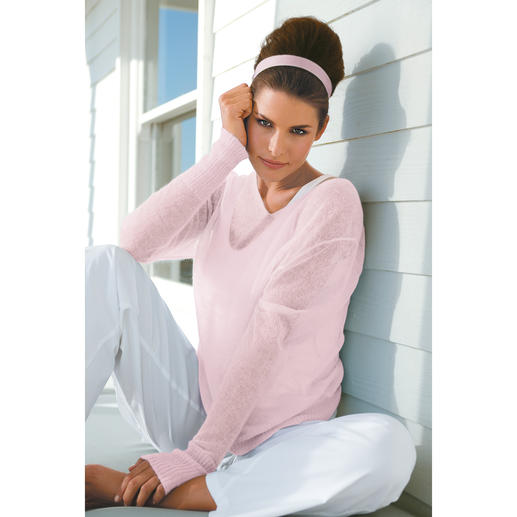 Be the first to review this product