Venetian splendour: Shimmering white gold, embedded in luxurious Murano glass beads.
Each bead is handmade by a glassblower on Murano.
World famous glass has been made on the island of Murano in the lagoon of Venice since 1291. Today, the art of making these glass beads is only found in just a few small factories.
Glass intricately made by hand, with an inner layer of foil in 18 carat white gold.
Experienced glass artists take a little piece of a partially coloured Murano glass rod and turn it into a core of glass in an open flame. Depending on the design, they add glass rods in different colours in order to create a pattern. Then they add very small pieces of gold leaf in white gold and these will be fused with the core. Glass particles containing copper are also added. After this, a final colourless glass layer is applied and the result is a uniform bead.
The precious metals set in glass will keep their brilliance forever.
The elegant and well matched mint and blue ice tones, together with the transparent glass and the white gold give a fascinating, mysteriously shimmering appearance. The necklace comprises approx. 41 Murano beads with a 10mm diameter and is approx. 42cm (16.5″) long. Weight approx. 67g (2.3 oz). With adjustable fastener made of solid, matt 925 sterling silver.
Murano - the centre of the European glassmaking industry since the 13th century.
In the 11th century the sailors of the Serenissima not only brought silk and spices to Venice, but also the art of glassmaking. However, the narrow alleys of the city combined with the fire that was required for making glass was always a source of great danger – and so in 1291 the glassmakers were sent to the island of Murano. For centuries the Murano glass belonged to the world's most popular luxury products. Nowadays there is a distinction between mass production for tourists and the beautiful glass art objects that are, like the beads in this necklace, still fashioned by hand.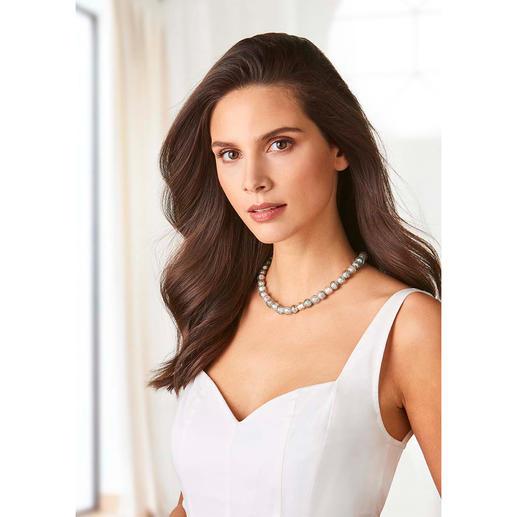 Be the first to review this product