Tangram. The classic ancient Chinese puzzle game. Now for a social get-together too.
For up to 4 players. With 200 patterns plus solution.
The more than 2,000 year old puzzle from China is actually a classic solo game. The Tangram Challenge now turns brain training into an exciting competition: Up to 4 players simultaneously try to create the figure shown on the playing card from the 7 geometric shapes. Only the first one to complete the figure wins – but everyone has trained their logical thinking and spatial imagination.
The decorative beech wood construction also makes it a beautiful gift.
Includes four 14.5 x 14.5cm (5.7″ x 5.7″) frames with 7 painted pieces (two large triangles, a medium triangle, two small triangles, a square and a parallelogram). Comes with 200 pattern cards plus solution and a game manual. Suitable starting from 6 years of age. Measures 30 x 15 x 6cm (11.8″ x 5.9″ x 2.3″). Weighs approx. 1.85kg (4.08 lbs).

Warning: Not suitable for children under 3 years of age.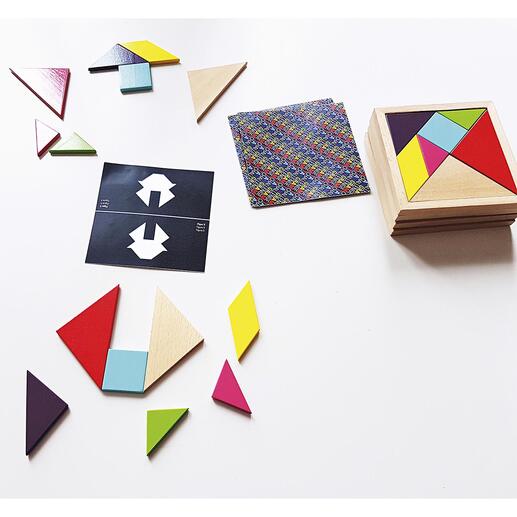 By Farideh F. on 03.12.2019
Beautiful
It is a Christmas gift so as yet not given, The pieces look beautiful and tactile and should give hours of pleasure to be played singly or otherwise.