SilverWash® Wash Machine Cloth
Long-lasting freshness.
Ideal for people with allergies.
SilverWash® Wash Machine Cloth
Long-lasting freshness.
Ideal for people with allergies.
Active silver means hygienically clean laundry.
It's antibacterial, with each wash cycle, at any temperature.
Many fabrics are only washable at temperatures of 30 or 40 degrees. These are levels at which most bacteria survive and can be transmitted from garment to garment in the washing machine. You can prevent this happening by simply including this hygiene cloth with your wash. The active silver embedded in the fibres of the cloth eliminates up to 99.9% of bacteria on your laundry. Certified by the Hohenstein Institute.*
Long-lasting freshness.
After washing, your laundry will be free of bacteria and will stay fresher for longer. Any lingering odour of perspiration is also inhibited, which is a definite plus when dealing with sweaty T-shirts or sportswear. Also your washing machine will remain hygienically clean thanks to the action of silver ions that were released during the wash cycle.
Ideal for people with allergies.
Each cloth can be effectively used up to 100 times. Suitable for hand or machine washing up to 95°C. Can also be used with fabric softeners. Size 43 x 48cm (17" x 19"). 78% polyester, 22% silver-sheathed fibres. Made in Germany.

* Test report no. 10.8.3-0023 from the Hohenstein Institute, in Bönnigheim, confirms a significant antibacterial effect on Staphylococcus aureus (SA) and a strong antibacterial effect on Klebsiella pneumoniae (KP).
"The washing machine is a source of bacteria"
According to the science section from the Spiegel Online: "Micro-organisms can multiply in the residual water of the empty machine and be transmitted to your laundry during the next wash."
(Source: www.spiegel.de, 2009)
Also the Stern warns:
"Bacteria survive low temperatures.
Laundry should be deep cleaned. It may look clean, but is it free from bacteria? At low temperatures, this is impossible to achieve. Quite a few pathogens survive in warm water and can be transmitted to other garments."
(Source: www.stern.de, 2009)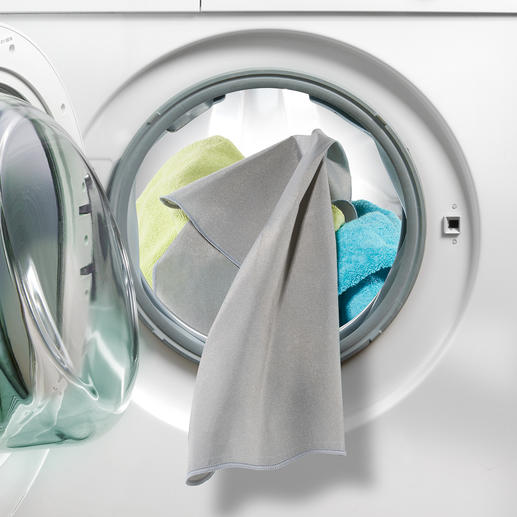 By Gudrun B. on 10.09.2019
At last a solution to an old problem
I was very sceptical about the ability for a cloth to fight the odour that always lingered in my daughter's work clothes, even after washing at 40 and drying it on the line in the fresh air. Some bits, esp. her trousers, would still be smelling of old sweat when I took it off the line. (I do have a very sensitive nose) I didn't just want to hide the smell by covering it up with some synthetic fragrance, but eliminate it. This cloth has done exactly this, I'm so thrilled. I'm glad that I bought 3, so that I can give one to each daughter-in-law for Christmas.
By Bernard D. on 25.09.2018
Unsure?!
Not noticed any any difference in the washes. Used on different fabrics at different temperatures. Hope that the clothes are doing the job!