The most versatile basic in your travel wardrobe.
The most versatile basic in your travel wardrobe.
Made from baby alpaca wool, this pullover is the most important thing to take with you when travelling.
Hardwearing and elegant, it will look good for years. By Carbery/Ireland.
You are unlikely to find a more comfortable and straightforward pullover. It is made from pure baby alpaca, light as a feather and wonderfully soft. The rare luxury yarn absorbs almost no odour, has a silky sheen and is much less likely to pill than other comparable yarns. Alpaca is also naturally elastic and does not lose its shape, even after frequent wear.
The most versatile basic in your travel wardrobe.
It will fit into any hand luggage and can be worn with or without a shirt. Or you can drape it comfortably over the shoulders like a scarf for extra warmth. Pleasantly light, even under a sports jacket or leather jacket. Can be worn with tweed, cord and denim, and on all sorts of occasions for a sporty and comfortable or stylish look.

Classic cut. With round neck or V-neck. Length in size 40: 68cm (26.8″). 100% alpaca. Hand wash. Made in Ireland. Exclusive to ­Fashion ­Classics.
Alpaca. The gold of the Incas.
The alpacas graze on the high plateaux of the South American Andes, at an altitude of between 4,000 and 5,000 metres, immune to icy cold temperatures and blazing heat, protected only by their extremely hardy fleece. They are shorn every 2 years, each animal yielding a fleece weighing approx. 3.5 kilograms. Only a single shipment of alpaca wool is available world-wide each year – hence its high price. With its silky sheen, pleasant feel, lightness and warmth, alpaca wool knitwear is fantastically comfortable. The fine alpaca hairs are enveloped by tiny, extremely smooth scales which reflect the light and give alpaca wool its characteristic classic sheen. Their extremely smooth surface also prevents the long, fine fibres from catching, which means that alpaca wool will not pill and is durable and hardwearing. A long-lasting luxury.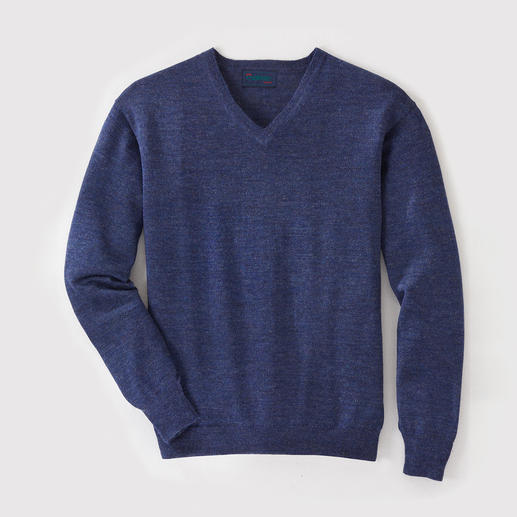 Be the first to review this product