Warm and water-repellent.
Warm and water-repellent.
Rediscovered: The winter headgear worn by the elite of the US air force.
With fold-down ear flaps in warm sheepskin.
This type of cap was originally worn by the crews of Super Fortress bombers and was an effective addition to the legendary sheepskin flying jacket. Later it became a prized possession of bush pilots in Alaska. Today it is a superb accessory for anyone who dislikes having cold ears.
Warm and water-repellent.
The fine, water-repellent nappa leather and the shape, cut precisely to follow the contours of the head, set this hat apart from run-of-the-mill fur hats. The comfortable high peak can be relied upon to protect your eyes from snow, rain and UV rays. The seams are covered with narrow strips of leather to make them extra watertight.
Simply fold down the ear protectors made from soft sheepskin – they will fit snugly but comfortably against your ears, protecting them from icy winds.

Fine lamb nappa leather and sheepskin. Lining: 100% nylon. Colour: Black. Exclusive to Pro-Idee.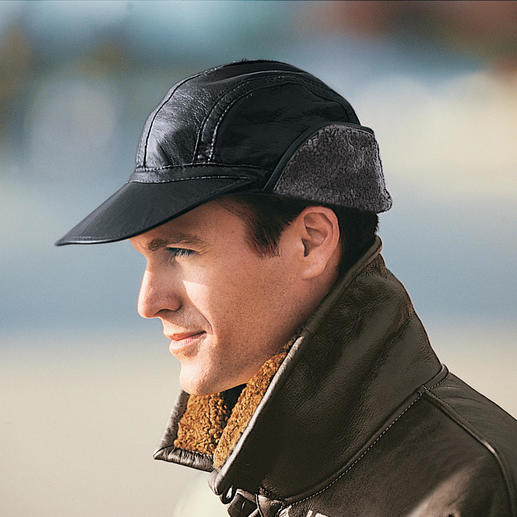 Be the first to review this product