Fermentation Glass with Fermentation Valve
Food trend fermentation: Very simple, sterile and delicious.
From the Pro-Idee Special Shop
Cuisine
Food trend fermentation: Very simple, sterile and delicious.
The better fermentation glass: 100% airtight, with automatic fermentation valve.
Food has been already preserved by fermentation for thousands of years. Now this 100% natural preservation and refinement method is back in style. In contrast to canning, for example, vitamins and nutrients are largely retained; valuable probiotic bacterial cultures are formed. And best of all, cabbage, carrots, beets,... acquire a uniquely aromatic, subtly tart flavour. Using this fermentation glass, your self-made delicacies will be perfect: From classic sauerkraut to Asian Kimchi. And you know exactly what's in it.
Simply fill to taste (recipes and instructions supplied) and seal. Nature takes care of the rest.
Neither oxygen nor harmful germs can get into the glass through the airtight lid. Gases on the other hand, which are formed during fermentation, can always escape through the fermentation valve. Thus there is no danger of excess pressure inside the glass. Measures 35 x 12cm (13.8ʺ x 4.7ʺ) (H x diameter) complete with attachment, weighs 1.2kg (2.65 lbs). Holds 3l.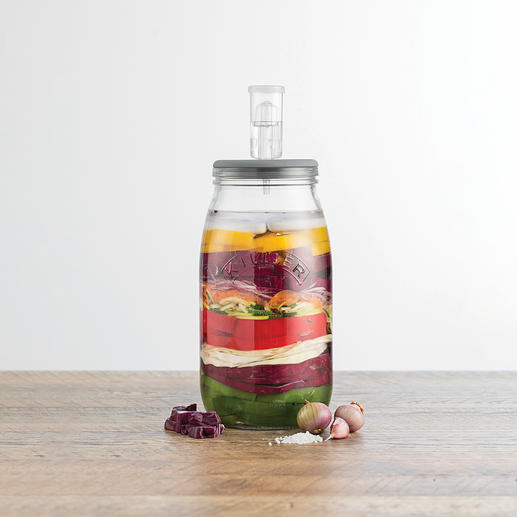 Be the first to review this product