06.04.2020 - We are still here for you. Standard delivery currently takes about about 5 to 7 working days. Mohr
Targeted light horizontally, vertically and other angles in a minimalist design.
Wireless table lamp Octagon One with 36 LEDs and four brightness levels.
Even its shape is unique: A robust walnut brown or black base in the shape of an octagon. Additionally, there is the 38cm (15") long flat boom embedded with white LEDs at the end. Simply by tilting the octagonal base you can change the angle of the light and the lighting effect.
Wireless. Choice of 5 angles of light.
Horizontal: Ideal as a reading lamp. Vertical: Perfect to illuminate a picture or sculpture. Targeted against a wall: A pleasant indirect light. Simply by adjusting the base, you can change the position of the lamp. Being only 4cm (1.6") wide and wireless, you can put it anywhere.
You can change the light intensity by touch function.
4 different levels of brightness: From soft to bright daylight (3,700 - 5,500 Kelvin). A diffuser makes the light eye-friendly.
3-4 hours charging time for up to 7 hours of high-level light.
At the lowest level even lasts up to 168 hours. Rechargeable lithium battery (3.7V, 1800mAh). With 100cm (3.3ft) USB charging cable (delivery without mains adapter). LED life: Approx. 50,000 hours. Body made of aluminium and plastic in wood look. Size of the base: 8.4 x 4cm (3.3" x 1.6"). Light boom: 38cm (15") (L). Weighs 675g (1.5 lbs).
Winner of the Gift of the Year Award 2018 in the Contemporary Gift category.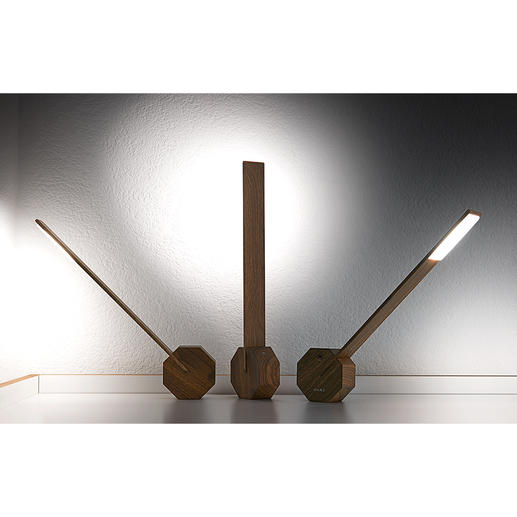 Be the first to review this product