06.04.2020 - We are still here for you. Standard delivery currently takes about about 5 to 7 working days. More
Sustainable Plant Pencils, Set of 5
Probably the first renewable pencil in the world.
Brilliant plant pencils with herb and flower seeds. Sustainable, good for the environment and beautiful.
Normal pencils get shorter and shorter over time and become unusable. The plant pencils grow, however, and even blossom. The trick is a water-soluble capsule with herb and flower seeds at the end of each pencils. Instead of just discarding the end of the pencil as usual, just plant it upside down in a pot of soil. Moisture, heat and light make the first tender bugs sprout in only a few days. After 4-5 weeks you can harvest your own herbs and enjoy your self-planted flowers.
Wildflowers and aromatic herbs in organic quality always fresh on hand.
The set of 5 plant pencils contains organic seeds of daisies, chia, basil, sage and thyme. On every pencil there are smart and touching quotes from famous personalities as a lovely extra. And these bring awareness of the environment into focus in a charming way.
Saves resources. Environmentally friendly. And a visible sign of sustainability.
Pencils of PETC/FSC-certified cedar wood. 100% biodegradable, non-toxic, lead-free. Certified according to EN 71 (Safety standard for toys). GMO-free organic seeds. Pencils 19cm (17.4″) long.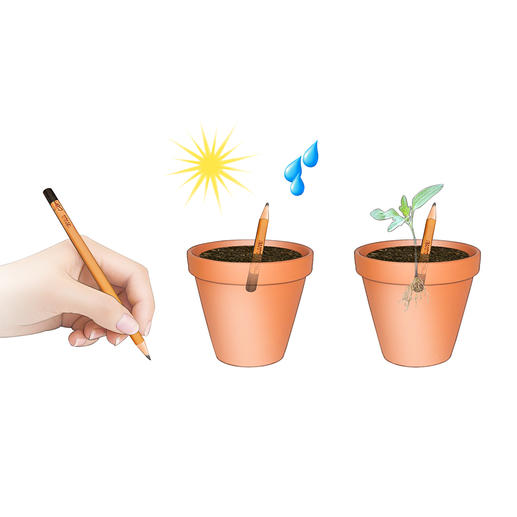 Be the first to review this product