05.04.2020 - We are still here for you. Standard delivery currently takes about about 5 to 7 working days. Mohr
Original Pango Pipe Clearer, including 4 adapters
Original Pango Pipe Clearer, including 4 adapters
Adapters supplied for all standard drains.
Clean your drains with a blast of compressed air.
Easy to use and environmentally friendly. No chemicals.
Now you can forget harsh chemicals and exhausting plungers. For all you need to do is fire this pipe clearer pistol. All it takes is one quick pump over the drain to compress the air in the pressure container, then press the trigger and a powerful blast of compressed air will clean out the drain.
Adapters supplied for all standard drains.
Whether it's the shower, bath, bidet, toilet or washbasin, the 4 supplied adapters will seal around standard drains and toilets, ensuring that none of the compressed air escapes unused.
The pipe clearer is made of sturdy red plastic and measures 28 x 28cm (11" x 11"), 8cm (3") wide. The hand pump will create pressure up to 4 bar. With this improved version, the air flap opens 23% faster, allowing even more air than before to suddenly escape making the Pango even more effective. The tapered pressure container now fits an even wider range of washbasins. Approved by the TÜV Süd (German organisation for product safety testing). Awarded the blue angel, a symbol of environmental friendliness. Free of charge: The Pro-Idee 36 month long-term guarantee. Save yourself the effort of using less effective plumber's 'snakes' and plungers or expensive, environmentally polluting chemicals. Blocked drains will be a thing of the past.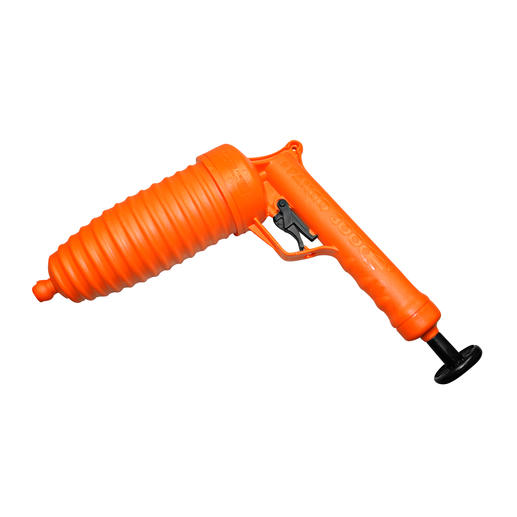 Be the first to review this product