05.04.2020 - We are still here for you. Standard delivery currently takes about about 5 to 7 working days. Mohr
Naglev Women's Lifetime Sneakers
Naglev Women's Lifetime Sneakers
The shoe for life: One-piece design made of virtually indestructible Kevlar.
Can be re-soled and the lining replaced.
The incredibly hard-wearing special fibre Kevlar® is also found in tear-resistant ropes, bulletproof and stab-resistant vests and protective suits. A start-up company from Italy has developed a shoe that is virtually indestructible, using a waterproof performance material – currently unique in the hiking shoe sector.
A shoe without weaknesses.
The Naglev Unico is made from a single piece. Superfluous seams – usually the weak points of a shoe – are thus avoided. Nothing can tear. Nothing presses. And the appearance is nice and clean.
High-tech outside and natural inside.
The supple, merino wool lining has a temperature-regulating effect and neutralises odours. It functions as an inner shoe and wraps around your foot like a sock. If it wears out at some point, it can be easily replaced by the manufacturer – as can the outsole.
Shock-absorbing and with a good grip.
The removable footbed is made with a breathable leather cover and a comfortable cushioning layer made of coconut fibres. A specially developed profile makes the rubber outsole extra non-slip.
Outdoor Gold Award Winner 2018.
Naglev founder Achille Morlin comes from the sixth generation of an Italian mountain shoe dynasty. His factory produces only this one model: The Unico. All his know-how, strength and passion are in this shoe. The all-rounder shoes combine the support of a hiking shoe with the flexibility of a trail running shoe and the modern look of a street-style sneaker.

Colour: Black/grey-mélange. Upper: Kevlar. Lining: Wool. Insole: Leather. Outsole: Rubber.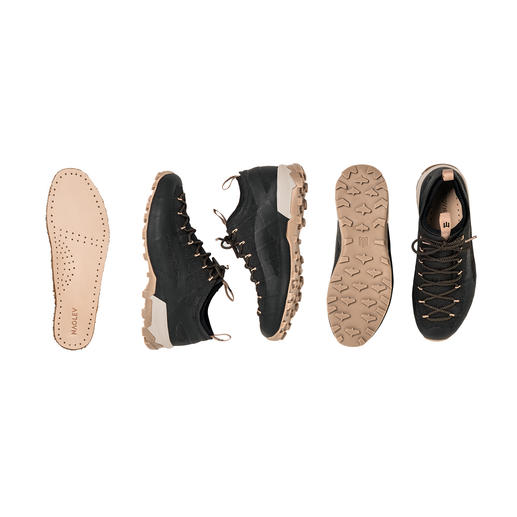 Be the first to review this product