Goodbye but not Farewell ...
As a result of the Brexit, Pro-Idee is temporarily closing its UK online shop (www.proidee.co.uk) until further notice. We apologise for the inconvenience. Everything you might want to know about the situation is to be found in the FAQs below. It will surely help you navigate through this change and answer the most frequent questions you might ask yourself regarding ordering, shipping, delivering and many other areas which are impacted by the closing of our online shop. As we remain committed to curating a unique selection of high quality products, we invite you to continue shopping in our German, French, Dutch, Austrian or Swiss online shop if you wish to have your order delivered to an address outside the UK. We thank you for the continuous support throughout the years and we hope to be able to reopen our UK online shop in the near future.
Ginkgo Necklace
The leaf of the world's oldest tree.
Ginkgo Necklace
The leaf of the world's oldest tree.
The leaf of the world's oldest tree.
Cast in 925 sterling silver. Now also in gold.
Millions of years ago, Ginkgo trees covered the entire northern hemisphere. They thrived in China and returned as exotic park trees to the gardens of European nobility by way of Japan. Today spiritual and healing powers are still attributed to the world's oldest tree which is an intermediate form between foliage and coniferous trees. This pendant is a carefully handmade die-cast of the rare Ginkgo leaf in solid sterling silver. Give the sterling silver Ginkgo leaf as a gift – an exceptional piece of jewellery in the shape of a leaf which even inspired Goethe to write a poem about it.

The leaf in 925 sterling silver (or in gold) is approx. 50 x 55mm (2" x 2.2") and is supplied with a 45cm (17.7") long silver (or gold) chain in an attractive black gift box. Exclusive to ­Pro-Idee.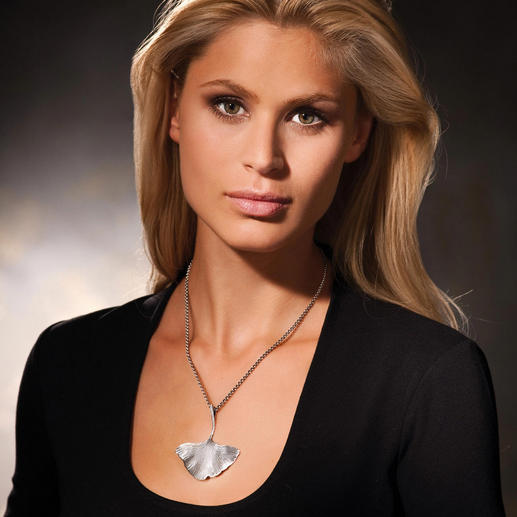 Be the first to review this product