Pro-Idee – The Company
Overview
Please choose the subject you would like to know more about:
---
The Pro-Idee Concept-Store
This Pro-Idee Concept-Store is part of the Pro-Idee company.
Pro-Idee has specialised in locating quality products with a hint of the exceptional for 30 years now. Products that make life easier, less cluttered, safer – or quite simply more pleasant.
We consistently uncover a stream of innovative new products and rare classics at over 50 trade fairs worldwide. Many of them are difficult to obtain in the UK – or indeed entirely unknown.
Today, Pro-Idee is known for its deft hand at presenting superior products to discerning clients. They are superior to standard products in at least one of the following characteristics: Quality, function, originality, authenticity, exclusiveness, price and design.
In this way, Pro-Idee provides brand manufacturers of global standing the same opportunity it affords smaller scale producers to introduce and popularise the best of their products. It is not uncommon that the most fascinating items come from small manufacturers who are based at home in secluded locations dotted around the world. This applies to precious clothing and even to many technical solutions. Everyone today is familiar with products that Pro-Idee championed on the marketplace: the Maglite torch by Mag Instruments, the Leatherman survival tool, the Corby trouser press, the Wurlitzer jukebox, Vornado fans, innumerable design products, fashion labels ….
Over the last 30 years, increasing numbers of people have discovered how convenient it is to shop at Pro-Idee – in catalogues and web shops. They demand outstanding quality, and expect impeccable service. Our customers receive their chosen products with a long-term quality and price guarantee directly from our distribution centre in Aachen (Germany).
At the moment there are Pro-Idee web shops, catalogues and service centres in the following countries:
England
Germany
Austria
Switzerland
The Netherlands
France
---
The Pro-Idee web shops
New ideas from around the world.
Three shops - one shopping cart

The Pro-Idee Concept Store: New ideas from around the world. You will discover our most fascinating keepsakes from innumerable travels tucked away in the Pro-Idee Concept Store. After all, superb products from the worlds of technology & electronics, sport & games, and jewellery & beauty are often unknown here in our parts.
To the Pro-Idee Concept Store

Pro-Idee Cuisine: At home in your kitchen. Visit Pro-Idee Cuisine to find our best tips for ambitious hobby chefs, perfectly tailored to each important electric device, accessory or tool. Many of the pots, pans and knives are endorsed or co-developed by renowned top chefs.
To Pro-Idee Cuisine

Fashion Classics: The true fashion classics. Modernised. Here in this shop you will discover the true classics of the fashion world, confidently withstanding all ephemeral trends. They stand as paragons of unshakeable quality, timeless design and superlative functionality … and oftentimes enjoy their own cult status.
To Fashion Classics
---
Pro-Idee shops: Dusseldorf and Cologne
Pro-Idee shop Dusseldorf airport

:

The 70 m² shop in Terminal B has the latest Pro-Idee Concept Store products, ideal gifts and novelties.
Opening times:
Every day (including Sundays and Bank Holidays): 7:30 am – 9:00 pm

Contact:
Pro-Idee Dusseldorf Airport
Terminalring 1
D-40474 Dusseldorf
Tel: +49 211 200 8517
Fax: +49 211 418 4599
E-Mail: proideeshop-dus@proidee.de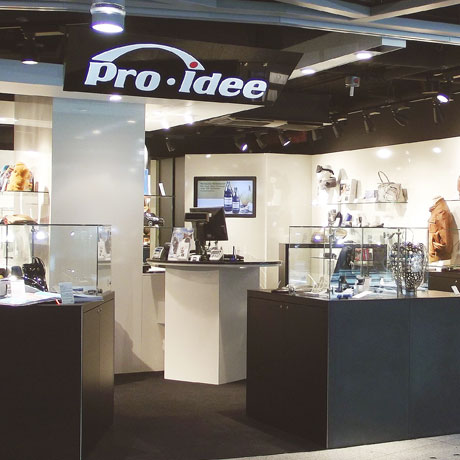 Pro-Idee shop in Düsseldorf recipient of the "DUS Excellence Award".
The airport association Düsseldorf awarded its "DUS Excellence Award" for the very first time in 2015. Amongst all of the airport shops the Pro-Idee team was awarded the bronze medal.

---
Pro-Idee shop Cologne/Bonn airport

:

The 130 m² shop in Terminal 1 has the latest Pro-Idee Concept Store products, a selection of particularly interesting items from the Fashion Classics online shop, ideal gifts and novelties.

Opening times:
Every day (including Sundays and Bank Holidays): 6:00 am – 9:00 pm

Contact:
Pro-Idee Cologne/Bonn Airport
Terminal 1
Waldstr. 247
D-51147 Köln
Tel: +49 2203 10 20 944
Fax: +49 2203 10 20 943
E-Mail: proideeshop-cgn@proidee.de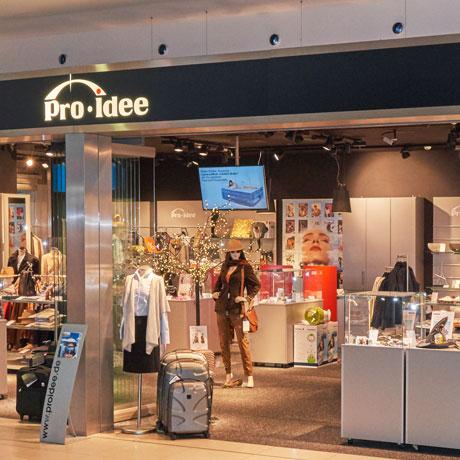 ---
The Pro-Idee Quality Guarantee
Meticulous product selection.
We apply the highest standards to our product selection. Products are only good enough
1. if they satisfy our discerning customers;
2. if we cannot find anything better anywhere else in the world.
Long-term product guarantee
Pro-Idee provides a guarantee that extends beyond the statutory warranty period of two years. The guarantee covers at least three years. You will find the details in the product descriptions.

Our service does not end with the guarantee
The Pro-Idee service ensures quick repairs at fair prices, procures spare parts and accessories, and even satisfies specific wishes after your guarantee expires.
Price guarantee
We will always offer a fair solution if the same product is available in the UK at a lower price within three months of your purchase. You will certainly be entitled in these cases to return the product at our cost and to request a full refund of the purchase price.
---
Legal notice
Pro-Idee
Woodview Road
Paignton
TQ4 7SR

Tel: 01626 880 916
Fax: 0844 557 4147
www.proidee.co.uk
E-Mail: service@proidee.co.uk

Pro-Idee GmbH & Co. KG * Head Office: Aachen, Germany * Court of Registration: District Court Aachen, HRA 4027
Personally liable partner:
Fairway GmbH * Head Office: Aachen * Court of Registration: District Court Aachen, HRA 5224
Managing Directors: Dieter Junghans, Ulf Bergjohann
Pro-Idee Geschäftsführungs-GmbH * Head Office: Aachen * Court of Registration: District Court Aachen, HRA 5994
Managing Directors: Dieter Junghans, Ulf Bergjohann
VAT. Reg. No. 777 495 661

Platform of the EC commission for online dispute resolution: http://ec.europa.eu/consumers/odr/