Silk Pyjamas with Travel Case
Silk Pyjamas with Travel Case
Enjoy the incomparable feeling of slumbering in pure silk. Featherlight, super soft and delightfully flowy, these pyjamas allow the skin to breathe and give you the feeling of luxurious freshness. Even sensitive sleepers feel great in these pyjamas. Shimmering, woven satin stripes add elegant shine to the delicate fabric and cleverly reduce transparency. The classic lapel jacket has a straight cut and offers ample room to move comfortably. The breast patch pocket is also very practical. The matching trousers are easy to slip into and have generous wide legs and a soft double quilted elastic waist. All seams are carefully stitched and hemmed. The pyjamas are supplied in a stylish pure silk case that provides practical protection to your nightwear while travelling. Pamper yourself with this beautiful piece of luxury in pure silk – at an extremely favourable price.
Straight cut jacket with wide, casually styled trousers. Length in size 10/12 for the jacket 71cm (28"), trousers 102cm (40"). 100% silk. Handwash. Colour: Cream white.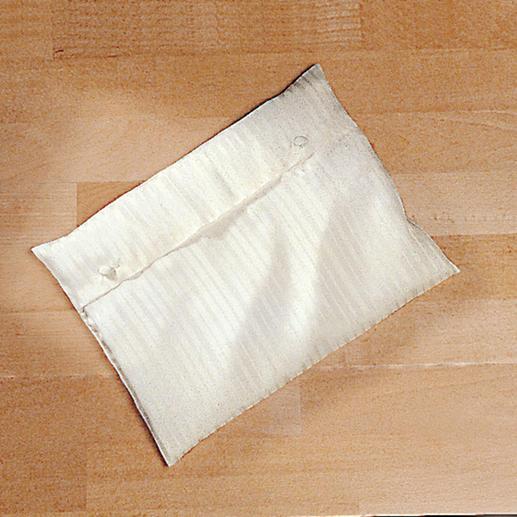 By John D. on 10.08.2017
A problem with sizing
These are excellent pyjamas in terms of quality, but the sizing seems to be problematic. I first ordered my partner's usual size, and then found that the top was too big while the bottom was just right - so sent them back and exchanged for the next smaller size, only to discover that the reverse was true - bottom too big and top too small. Ended up returning that set as well and giving up.
Pro-Idee Internet Editors: Thank you very much for your review on this item. Our customer service will contact you shortly.