Novila Pastel Stripes Pyjamas
Novila Pastel Stripes Pyjamas
Pyjamas that make a good first impression every morning.
There's no need to get dressed after getting out of bed or to put on a dressing gown, because these chic checked pyjamas are ideal for your first morning coffee, reading the newspaper, being on the terrace at sunrise, and they are so much more beautiful than other pyjamas. Because they are so stylish and comfortable, a dressing gown or leisure suit is no longer needed.
Now you can also enjoy a dry feeling during warm nights.
Your new pyjamas are made from breathable cotton and they are gently cooling and moisture-regulating. Perfect for travelling: The fine fabric takes up little space in your hand luggage and is light as a feather. The short jacket cut reminiscent of the couture jackets from Paris and the comfortable long pants with comfortable NOVILA Softbund® looks more like a chic beach pants.

Casual design. Length of the top in size 12: 60cm (23.6″). Total length of the trousers in size 12: 85cm (33.4″). Colour: Red/pink/yellow/grey/blue/turquoise. 100% cotton. Machine wash. Exclusive to Fashion Classics.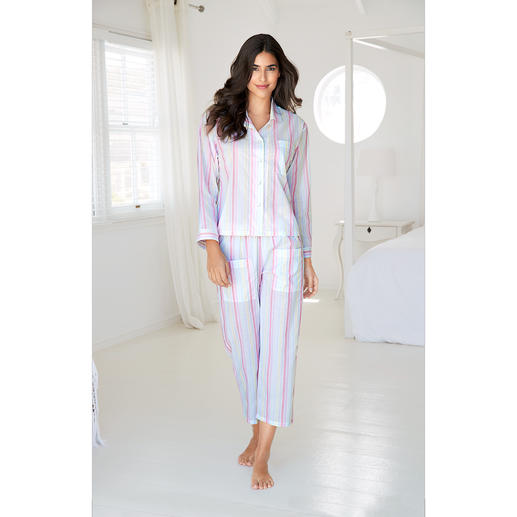 Be the first to review this product