Wandering Love by Aubade: Lingerie from Paris for everyday life.
The experience of more than 60 years of underwear manufacturing is shown by an excellent and comfortable fit.
Wearing this lingerie is not just a pleasure for the eye: The luxurious fabrics cling to you softly, complete­ly without scratching (as it unfortunately happens with a lot of other lingerie).
The galloon trim, which is elaborately embroidered tone on tone with flower elements, follows the pattern at the edges – and is not just cut out, as is otherwise common. This makes the pattern almost as sensual as if drawn on your skin.
As tender as a caress.
The half-shell bra creates a great cleavage, especially with low-cut tops. The straps made of fine satin ribbon are so beautiful that they could be shown under a dress. Thanks to a high waist fit, you barely feel the very delicate lace slip with V-insert and subtle embroidery on your skin.

Colour: Coral. Half-shell bra: Embroidery 65% polyester, 26% polyamide, 9% elastane. Lining 100% polyamide. Briefs: Embroidery 65% polyester, 26% polyamide, 9% elastane. Lower part: 100% cotton. Tulle on all two pieces 77% polyamide, 23% elastane. Hand wash.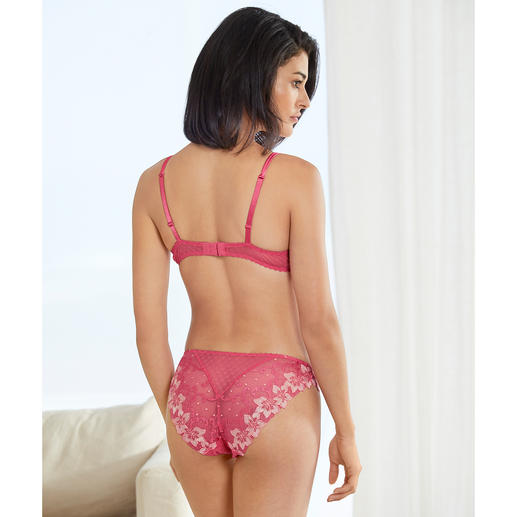 Be the first to review this product