Shelf-bra Underwear
No need for a bra anymore.
Shelf-bra Underwear
No need for a bra anymore.
No need for a bra anymore.
This underwear in silky soft Meryl® shapes and supports with an invisible shelf-bra.
Made of soft microfibre, this underwear feels gentle on your skin – hardly noticeable but with firm support. The built-in shelf-bra in the T-shirt, tank top and body gives you a perfect fit without having to wear a bra. Thanks to the elastane content the underwear hugs your body and will always keep its shape. Meryl® absorbs an amazing amount of moisture – unlike regular synthetics.
The Shelf-Bra Tank Top has wide comfortable 4.5cm (1.8") straps. It will keep you cool and yet still properly covered. As comfortable worn as a vest as it is worn as a top. It is the essential fashion top to go with casual skirts and trousers, especially cargo trousers and jeans.
The Shelf-Bra T-Shirt has a simple body hugging cut with a modern square neckline. The double-stitching on the front will flatter your décolleté.
The Shelf-Bra Body: The upper part of the body fits as closely as the tank top and shapes your bust nicely. The elasticated microfibre in this body shapes a slim waist. The modest cut at the leg opening has a perfect fit.
The comfortably fitting Jazz Pants can be worn with the shirts and tops.

All items in a body-hugging fit. Length in size 14: Tank Top 46cm (18"), T-Shirt 58.5cm (23"). 86% polyamide, 14% elastane. Machine washable.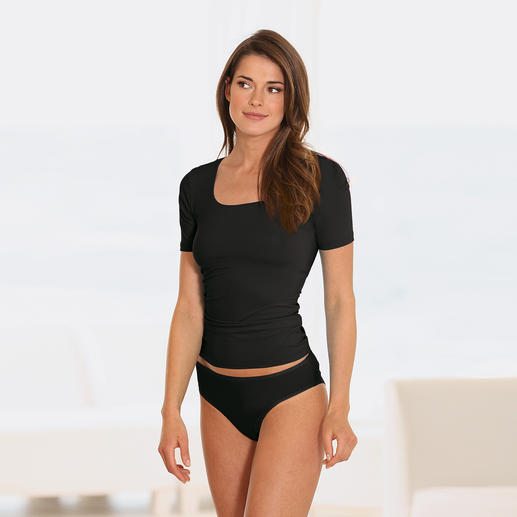 Be the first to review this product