06.04.2020 - We are still here for you. Standard delivery currently takes about about 5 to 7 working days. More
Recover Tartan Skinny Jeans
Recover Tartan Skinny Jeans
Not punk-rock, despite the skinny cut and tartan pattern: The tartan jeans from Recover.
Muted colours. Classic design. Adult cut with raised waist at the back.
Skinny is still one of the most popular cuts of jeans – and tartan is one of the most sought-after patterns this winter. The jeansmakers at Recover have succeeded in uniting both in a stylish manner: Into an every day pair of jeans without age limitations. The classic Scottish tartan in beige, green, red and black, with a hint of yellow can be combined with many basics.
Perfect fit.
The waist is not too low and not too high. There is an inset arch which raises the back. A dash of elastane makes these jeans extremely comfortable despite the close fit.

The trousers are small: We recommend you to order them one size larger. Five-Pocket design. Inseam in size 10: 77cm (30.3″). Leg width at hem: 27cm (10.6″). Colour: Beige/green/red. 97% cotton, 3% elastane. Machine washable.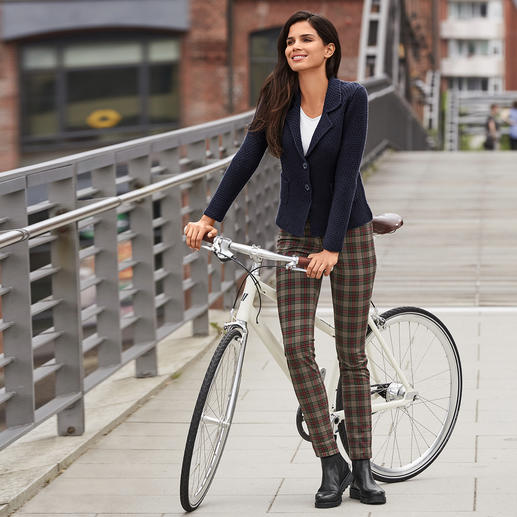 These on-trend pieces go well with 'Recover Tartan Skinny Jeans':
Be the first to review this product