Faux Leather Janice & Jo Leggings, Snake
Faux Leather Janice & Jo Leggings, Snake
Luxurious imitation ­leather leggings from the specialist fashion label: Janice & Jo, France.
Deceptively genuine leather look with snake print, perfect fit and great price.
An elegant, matt finish and perfectly replicated grain of genuine nappa leather in snake print, with a soft, lavish feel. Extremely comfortable with tearproof seams. In stark contrast to cheap, thin imitation leather with a garish artificial sheen.
Luxurious faux leather – from the French specialists.
The Janice & Jo brand has specialised in luxurious faux-leather leggings for more than 10 years. The designers had perfected the material and fit long before they became fashionable.
A sexy fit, normal waistline, no baggy knees.
The highly elastic material which gently streamlines your figure won't wear out and will always return to its original shape.

Pleasant fit, regular waist. Inseam in size 10: 75cm (29.5″). Leg width at hem: 26cm (10.2″). Colour: Snake print in anthracite. 90% polyester, 10% elastane. Machine wash.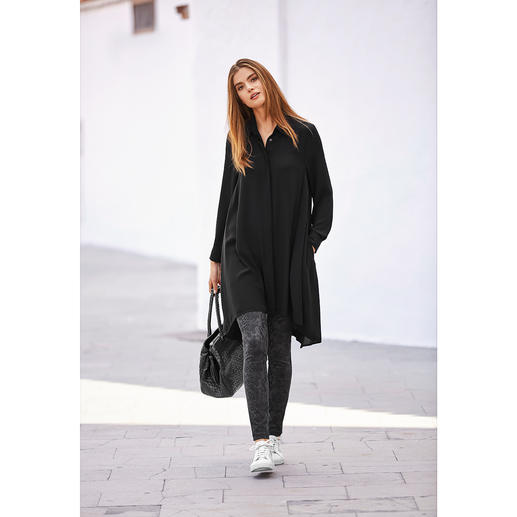 These on-trend pieces go well with 'Faux Leather Janice & Jo Leggings, Snake':
Be the first to review this product