29.05.2020 - You may experience longer delivery times due to the current circumstances and logistic difficulties that are out of our control. Further details are available on the webpage of each product. More
Wolff Shirt
Why is the whole world looking for the T-shirt from Austria?
Wolff Shirt
Why is the whole world looking for the T-shirt from Austria?
Shirts by Wolff are rare.
Why is the whole world looking for the T-shirt from Austria?
Made from finest mercerised cotton.
These days you can spend a long time looking for a shirt if you want to be sure of the country of manufacture. Most shirts today are made anywhere that is cheap, dictated by price for a short-lived fashion fad. However this shirt has a Wolff label, the name of the owner of the Austrian underwear specialists. Hans Wolff insists upon personally inspecting the quality of the products that bear his name. He accepts that this will limit his capacity and that the manufacture of his long-lasting shirts will sometimes take longer. His satisfied customers accept that.
Shirts by Wolff are rare.
They are also a little more expensive, but they fit perfectly, keep their shape and colour and last longer than generations of cheaper shirts.You will love yours! It is made from ultra soft, lightly shimmering jersey, which is made from treasured mercerised cotton. Slightly tailored, it looks more elegant than straight cut shirts. A perfect basic that can be combined with so many things, either by itself or under other garments – with tailored jackets, or a suit, with leather and denim jackets. Pleasantly cool in the summer, warm enough for winter.

Slim fit with feminine round neckline and 3⁄4-length sleeves you can stylishly roll up. Keeps its shape and colour particularly well. Length in size 12: 57cm (22.5"). 100% cotton. Machine wash. By Wolff of Austria. Exclusive to ­Fashion ­Classics.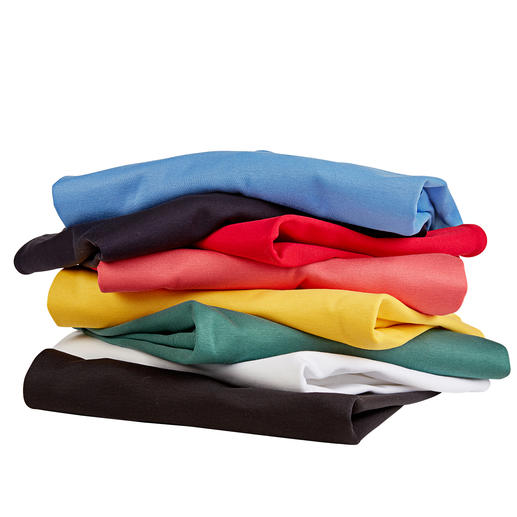 Be the first to review this product
*The specified comparison price/recommended retail price may have been requested by Pro-Idee/the manufacturer some time ago. Due to price adjustments in the meantime, the actual savings may deviate from the last requested price.