Strenesse Herringbone Pencil Skirt
Strenesse Herringbone Pencil Skirt
Very fashionable and very elegant – and as comfortable as home wear: The herringbone pencil skirt by Strenesse.
Contemporary stretch fabric in Italian wool mix jersey and pleated crêpe.
Despite the slim cut, this skirt does not constrict, but allows freedom of movement. Secret of the invisible comfort: A stretch knit which is visually indistinguishable from woven cloth. The herringbone front is made of a soft wool mix jersey, the black back is made of pleated crêpe (with no visible panty line showing through as unfortunately is the case with many knitted skirts).
Retains its shape. Does not go baggy. Resilient against creasing and pilling.
Important fashion themes this winter: The midi length and the classic herringbone pattern. Thanks to the black edging at the forward sides, the design has an optically slimming effect. Eye-catching while guaranteeing legroom: The pleated insert at the back. Extended waistband with side zip fastener.

Slim cut. Length in size 10: 77cm (30.3"). Colour: Black. Herringbone: 42% cotton, 24% acrylic, 24% virgin wool, 8% polyamide, 2% elastane. Crêpe: 69% triacetate, 31% polyester. Lining: 65% acetate, 35% polyester. Dry clean only.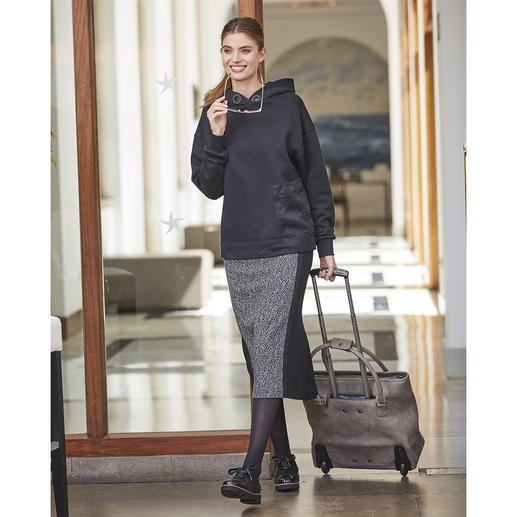 These on-trend pieces go well with 'Strenesse Herringbone Pencil Skirt':
Be the first to review this product