Ixli Travel Slippers, Melody Blue or Toledo Cream
Ixli Travel Slippers, Melody Blue or Toledo Cream
Colourful flowers instead of dull and plain.
Stylish travel slippers by Ixli, France.
Most travel slippers of this kind look rather dull. These one, from French accessory label Ixli, are cheerful and colourful. With a feminine floral pattern, charming flower blossoms and lace edging. They are as flexible as a gymnast's shoe, yet are made of soft and cosy fleece.
Ultra-light. Warm. Breathable.
On long flights, in a hotel, as a passenger in the car, for relaxing at home: You'll feel nothing but softness and warmth in these slippers. They protect your feet from getting dirty, plus they fit conveniently into any handbag.
Rubber sole with nubs for good grip.
The stretchy edge feels comfortable and doesn't pinch.

Extremely flexible, fits shoe sizes 2 to 7.5. "Toledo Cream" in the colour combination cream/burgundy/green, "Melody Blue" in blue/black/pink. 100% polyester. Hand wash only.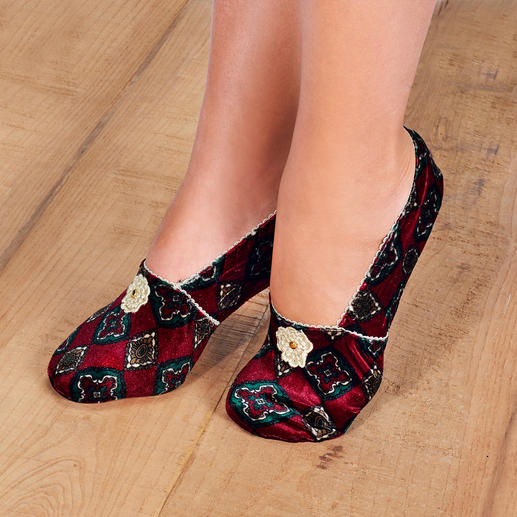 Be the first to review this product