Goodbye but not Farewell ...
As a result of the Brexit, Pro-Idee is temporarily closing its UK online shop (www.proidee.co.uk) until further notice. We apologise for the inconvenience. Everything you might want to know about the situation is to be found in the FAQs below. It will surely help you navigate through this change and answer the most frequent questions you might ask yourself regarding ordering, shipping, delivering and many other areas which are impacted by the closing of our online shop. As we remain committed to curating a unique selection of high quality products, we invite you to continue shopping in our German, French, Dutch, Austrian or Swiss online shop if you wish to have your order delivered to an address outside the UK. We thank you for the continuous support throughout the years and we hope to be able to reopen our UK online shop in the near future.
Allan K Braided Leather Platform Sandals
A fashion rarity: The platform sandal with all-over braided leather.
More than 50 years' know-how.
A fashion rarity: The platform sandal with all-over braided leather.
From the braided leather specialist Allan K., Antwerp.
The platform sole, the ankle strap and the nougat colour make this sandal a real trendsetter. Nevertheless, it stands out clearly from the fashion mainstream thanks to the interesting texture of the braided leather, and especially through the platform which has been artfully covered with braided leather. The straps have no scratchy edges, and wrap softly and flexibly around your feet.
More than 50 years' know-how.
Braided leather is the speciality of Belgian, Alain Kadic. His father developed special machines for this technique in 1963. And still today, the company produces the finest braided leather for famous brands throughout the world, and since 2013 for their own label, Allan K.

5cm (2") platform sole. Colour: Nougat. Upper and insole: Leather. Outsole: Rubber.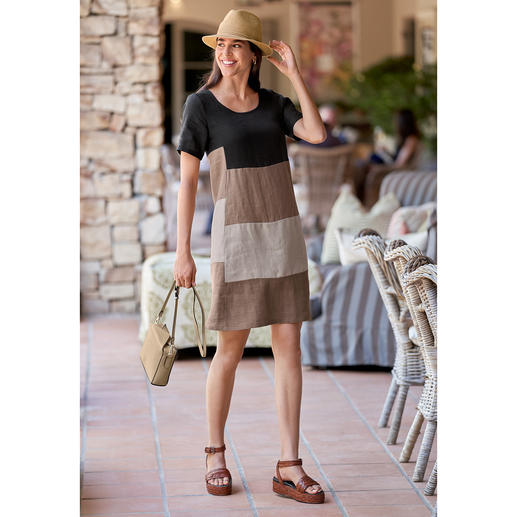 These on-trend pieces go well with 'Allan K Braided Leather Platform Sandals':
Be the first to review this product