Keeps its colour and shape. Crease-resistant.
Keeps its colour and shape. Crease-resistant.
Warms without being bulky: The perfect shirt under slender blazers and jackets.
A fine shirt made from silk, Tencel® and wool.
The successful combination of materials makes this the ideal shirt to wear underneath. Thanks to the silk and Tencel®, it is fantastically soft and smooth with a fine sheen. And so thin that it doesn't bulk up under slim-fitting garments. It is pleasantly warm thanks to the small and perfectly proportioned amount of added wool, but not too hot in heated rooms.
Keeps its colour and shape. Crease-resistant.
An undershirt should be hardwearing. Plain cotton types wear out and fade quickly after being worn and washed repeatedly. Thanks to the natural Tencel® cellulose fibres, this shirt will hold its shape and brilliant colour for a long time and will hardly crease. The high stand-up collar will keep the neck warm. The sleeves have a slender fit.

Slightly tailored shape. 50% silk, 40% lyocell, 10% wool. Hand wash. Exclusive to ­Fashion ­Classics.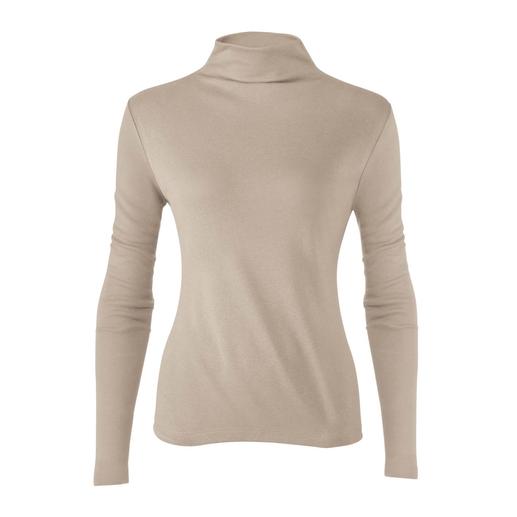 By Laura S. on 08.11.2017
Excellent - Fit for Purpose...
After reading the full description of this garment - with it's high neck and skinny fit - I thought it would be just what I needed to wear under jumpers and tops for the winter. Originally bought two in size 12 - which were just a bit too loose so I returned them for a full refund and ordered another couple in size 10. Arrived today - perfect fit and am about to order two more.