Goodbye but not Farewell ...
As a result of the Brexit, Pro-Idee is temporarily closing its UK online shop (www.proidee.co.uk) until further notice. We apologise for the inconvenience. Everything you might want to know about the situation is to be found in the FAQs below. It will surely help you navigate through this change and answer the most frequent questions you might ask yourself regarding ordering, shipping, delivering and many other areas which are impacted by the closing of our online shop. As we remain committed to curating a unique selection of high quality products, we invite you to continue shopping in our German, French, Dutch, Austrian or Swiss online shop if you wish to have your order delivered to an address outside the UK. We thank you for the continuous support throughout the years and we hope to be able to reopen our UK online shop in the near future.
Blazer Top
You'll often wear this easy-care top instead of a blouse.
Blazer Top
You'll often wear this easy-care top instead of a blouse.
You'll often wear this easy-care top instead of a blouse.
In soft viscose, with a low neckline and cleverly shaped collar.
This long-sleeved top has a more well-­groomed appearance and is more sophisticated than many of its kind. Its attractive low-cut neckline and cleverly shaped collar nearly has the same impact worn under a blazer as a blouse would (which requires more care). The neckline is beautifully finished without any seams. The integrated lining in the top front section makes the bust section opaque and prevents your underwear from showing through. A touch of elastane makes the soft, delicate viscose fabric stretchy and keeps it in shape. So your shirt will always feel great on your skin and will fit perfectly. The high neck section will protect your jacket collar from getting stained. A perfect basic that will never look bulky, even under figure-hugging jackets.

Slender, slightly tailored fit. Length in size 12: 59cm (23"). 95% viscose, 5% elastane. Machine washable. Exclusive to ­Fashion ­Classics.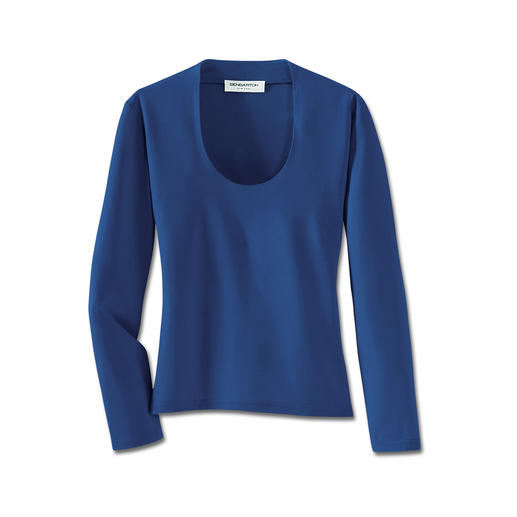 Be the first to review this product