Goodbye but not Farewell ...
As a result of the Brexit, Pro-Idee is temporarily closing its UK online shop (www.proidee.co.uk) until further notice. We apologise for the inconvenience. Everything you might want to know about the situation is to be found in the FAQs below. It will surely help you navigate through this change and answer the most frequent questions you might ask yourself regarding ordering, shipping, delivering and many other areas which are impacted by the closing of our online shop. As we remain committed to curating a unique selection of high quality products, we invite you to continue shopping in our German, French, Dutch, Austrian or Swiss online shop if you wish to have your order delivered to an address outside the UK. We thank you for the continuous support throughout the years and we hope to be able to reopen our UK online shop in the near future.
Junghans 1954 Short Sleeve Twinset Pullover or Long Sleeve Twinset Jacket
Delicate fine silk knit. In a fashionable length.
Pure silk: Smooth, cool, with a slight sheen.
Delicate fine silk knit. In a fashionable length.
The perfect twinset to wear with on-trend high-waist trousers and skirts. From Junghans 1954.
Even though the twinset is a fashion classic, it is often neglected by the designers. As a result, highly fashionable designs are a rare find – especially premium quality twinsets like this one which even comes in a new shorter length.
Pure silk: Smooth, cool, with a slight sheen.
The luxurious natural fibre is surprisingly tear-resistant and, when knitted, is pleasantly stretchy. For a perfect fit without going baggy, the front, back and sleeves are elaborately fully-fashioned, precisely knitted into shape and then stitched together.

Short sleeve pullover and long sleeve jacket in straight cut. Length in size 14: Pullover 60cm (23.6"), jacket 51cm (20.1"). Colour: Black. 100% silk. Hand wash only.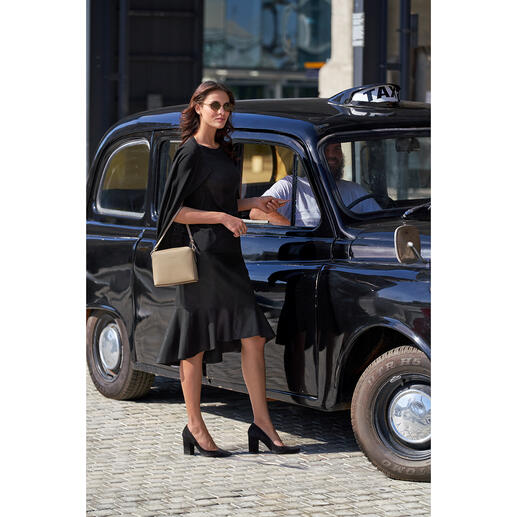 These on-trend pieces go well with 'Junghans 1954 Short Sleeve Twinset Pullover or Long Sleeve Twinset Jacket':
Be the first to review this product