Norwegian Santa Claus Pullover
Norwegian Santa Claus Pullover
A rarity made of the finest baby alpaca wool: Norwegian Santa Claus pullover.
Wonderfully soft. Incredibly hard-wearing. Ingeniously knitted jacquard.
Christmas pullovers are bang on-trend. However, such a classic in terms of design and colour – not to mention of such exquisite quality and style – is hard to find.
Baby alpaca wool is one of the most precious fibres in the world.
The fine undercoat comes from the first shearing of the young alpacas and is meticulously sorted by hand: Only fibres with a diameter of less than 19.5 microns and a length of 64 - 68mm (2.5"-2.7") meet the strict quality criteria.
As soft as cashmere, but nonetheless hard-wearing.
Baby alpaca wool is amazingly resilient; it resists abrasion and pilling, and hardly absorbs odours. The fibres are naturally elastic, so the pullover keeps its shape. And it is considerably lighter than most of its kind (approx. 480g/17 oz in size 12).
No annoying threads on the inside.
No comparison to cheap Norwegian pullovers, in which your watch or jewellery easily get snagged.

Casual, straight fit. Length in size 10: 58cm (22.8"). Colour: Red/cream. 100% alpaca wool. Hand wash only.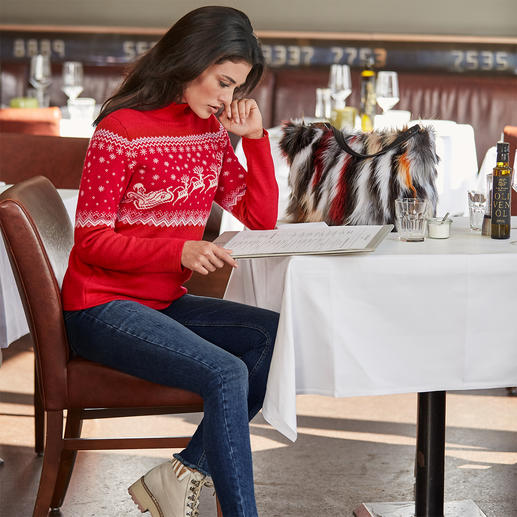 These on-trend pieces go well with 'Norwegian Santa Claus Pullover':
Be the first to review this product