neyo Diagonal Knitted Jumper
neyo Diagonal Knitted Jumper
Attractive basic cotton jumper in elaborate diagonal knitting.
Made on traditional hand knitting machines in Nepal.
Versatile basics such as white cotton jumpers can be a bit boring. This one offers fashionable refinement: The diagonal knitting, which starts in the centre, looks a lot more interesting than simple straight purl knitting. The knitted raglan sleeves make the shoulders look smaller, and the wide neckline shows off your neck for a seductive effect.
Slow fashion made under fair conditions. By neyo.
A stark difference to mass-produced fashion that uses cheap manufacturing processes. The rare diagonal knitwear takes a lot of time and patience to produce using nostalgic-looking hand knitting machines. Indispensable is the so-called triple decker needle. After each line, this needle needs to be adjusted by hand. As a result, it takes even an experienced knitter a whole day to make just one jumper. With his/her signature on the label every garment is unique and with a heart and soul.
Light A-line shape. Length in size 12: 58cm (22.8"). Colour: White. 100% cotton. Machine wash. Exclusive to Fashion Classics.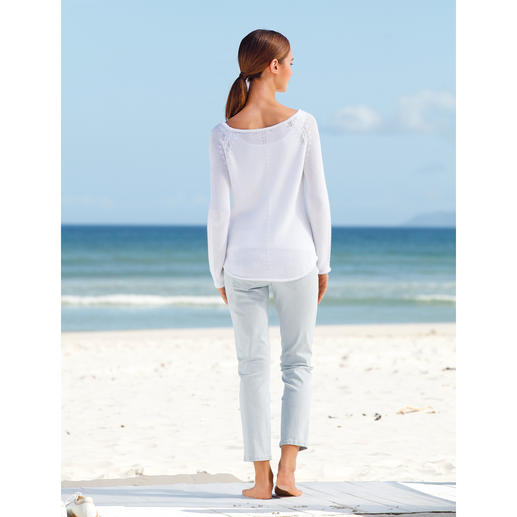 Be the first to review this product