Kero Airjet alpaca jumper
Kero Airjet alpaca jumper
It's rare that robust knit material is so light.
The alpaca jumper is made from "Airjet" yarn. Produced on manual knitting machines by the expert KERO DESIGN in Peru.
Using the innovative "Airjet" knitting process, fine alpaca and merino fibres are blown into a gossamer polyamide mesh. The resulting yarn is extremely airy, has a lot of volume but weighs little. This jumper weighs just 427g (15 oz) (in size 12), so it does not become distended from hanging, in contrast to heavier knit jumpers with coarse yarn. It also keeps its shape longer.
Produced in a small, Peruvian factory on hand-knitting machines.
The loving, artisanal knitting has been a tradition in Peru for generations. There is no comparison to the rushed, mass production of knit goods.
A favourite for life. And for the whole year.
The silky smooth surface naturally repels odours. And the hollow fibre structure has a temperature-balancing effect. If it's cold, the alpaca fibres save body heat better than other fibres; if it's hot, it keeps the heat at bay better.
KERO DESIGN: since 2014 certified "Pery Fair Trade".
And selected by the Peruvian Ministry for Foreign Trade as the most innovative textile company in Peru in 2015.

Colour: Light grey. Casual, straight style with raglan sleeves and turtleneck. Length in size 12: 62cm (24.4″). 70% alpaca, 23% polyamide, 7% virgin wool. Hand wash. Made in Peru.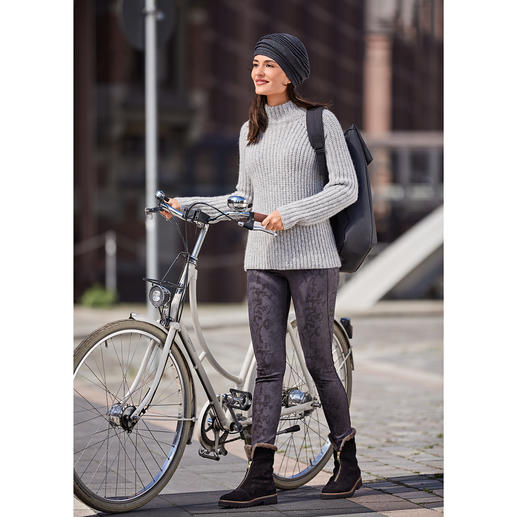 Be the first to review this product