Goodbye but not Farewell ...
As a result of the Brexit, Pro-Idee is temporarily closing its UK online shop (www.proidee.co.uk) until further notice. We apologise for the inconvenience. Everything you might want to know about the situation is to be found in the FAQs below. It will surely help you navigate through this change and answer the most frequent questions you might ask yourself regarding ordering, shipping, delivering and many other areas which are impacted by the closing of our online shop. As we remain committed to curating a unique selection of high quality products, we invite you to continue shopping in our German, French, Dutch, Austrian or Swiss online shop if you wish to have your order delivered to an address outside the UK. We thank you for the continuous support throughout the years and we hope to be able to reopen our UK online shop in the near future.
Handbag Pullover
It doesn't get any finer.
Made from a rare 30-gauge fine-knit.
It doesn't get any finer.
These featherweight pullovers by John Smedley fit into every handbag.
Some of your seasoned pullovers will soon be forgotten. Because these pullovers are just as versatile, soft and pleasant – but much lighter and more elegant. The pullovers weigh a mere 200g (7 oz). They can be worn with jeans as well as suits. And are as ideal for travelling as they are for the office.
Made from a rare 30-gauge fine-knit.
The extremely fine, even stitches and the luxurious feel are unmistakable. John Smedley is one of the few knitters world-wide to have mastered the elaborate and yet very complicated 30-gauge knitting process. In this process, 30 needles are used per inch. Next to that, the "normal fine-knit" with only 21-gauge almost seems coarse. And the sensitive knitting machines can only handle merino virgin wool from New Zealander sheep that is as fine as angel hair – anything else would bring them to a standstill. Fully-fashioned and knitted to shape, the pullovers stay in shape for years. Even if you pull them out of your handbag every other day (instead of always "folding them properly").

Trendy, slightly fitted with V-neck. Length in size 12: 59cm (23.2″). 100% virgin wool. Machine wash.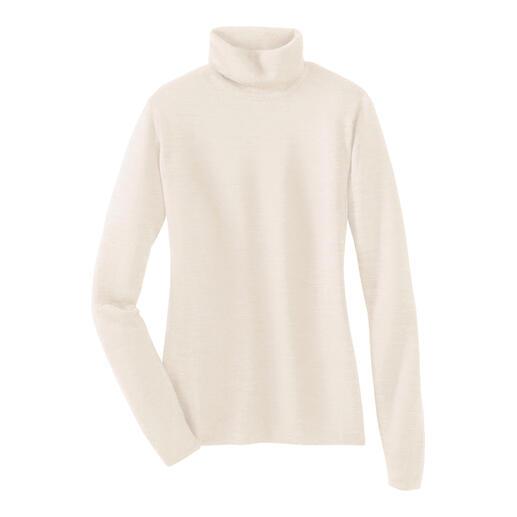 These on-trend pieces go well with 'Handbag Pullover':
Be the first to review this product