FTC Cashmere Polo Neck and V-Jumper
FTC Cashmere Polo Neck and V-Jumper
As airy as a shirt. Except it's made from the finest downy-soft cashmere.
By the Swiss specialist: Fair Trade Cashmere.
Thick cashmere knitted fabrics – sometimes 6- or 8-ply – are usually way too warm in heated rooms and under blazers and jackets. Yet these jumpers are the result of a 12-gauge fine knit using finest single-ply cashmere yarn – so gentle to the touch and pure delight on bare skin.
Delicate and feminine, with a streamlined fit.
Hip length and with a slightly tailored cut, these jumpers streamline your figure and are a perfect match for skirts and trousers or under a blazer.
Premium cashmere. Ethically procured and processed – at fair wages.
The Swiss company Fair Trade Cashmere not only places great value on the superb quality of its raw materials. Fair working conditions, environmental protection and respectful appreciation of all partners and employees are equally important to FTC's formula for success.
Choose from two patterns and versatile colours.
The V-jumper has a generous neckline – perfect over blouses and shirts.
The stretchy rib collar on the polo neck jumper feels soft and warm around your neck.

Hip length with a slightly tailored fit. Length in size 14: 60cm (23.3ʺ). Made from 100% cashmere. Hand wash.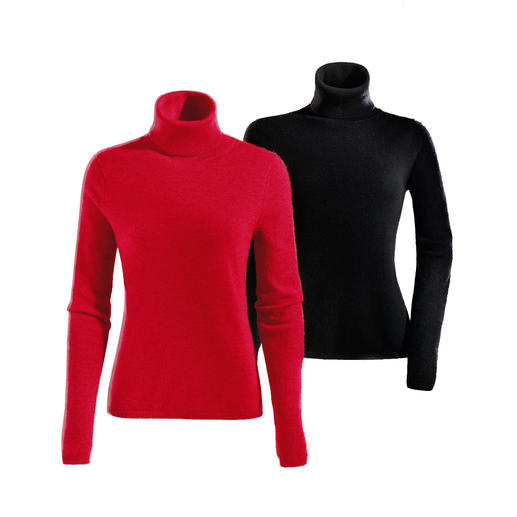 These on-trend pieces go well with 'FTC Cashmere Polo Neck and V-Jumper':
Be the first to review this product