07.04.2020 - We are still here for you. Standard delivery currently takes about about 5 to 7 working days. More
Dale of Norway Women's Zip Neck Pullover
Dale of Norway Women's Zip Neck Pullover
So fine yet so warm.
Made in Norway since 1879.
Not just any Norwegian pullover. The original zip neck pullover of the Norwegian national team.
Designed in 2003 for the skiing world cup. Now updated to meet the latest trends.
Outdoor specialist Dale of Norway has equipped the ski team of its home country since 1956. Many of the designs for the professional athletes later became bestsellers in fashion collections. One of the most popular is this zip neck pullover – designed in 2003 for the 37th Alpine Ski World Cup in St. Moritz which has now been modernised with a few design details.
So fine yet so warm.
Knitted with two layers of ultrafine "Skinsoft" merino wool – with all-over patterned yoke. Thanks to its finely woven structure, the zip neck pullover looks a lot less rustic than many other Norwegian pullovers. Additionally, an insulating layer of air is formed between the two layers. This makes your zip neck pullover warm enough for many winter outdoor activities. Plus, it's easier to move in compared with stiffly padded jackets.
Made in Norway since 1879.
Both the beautiful inlaid pattern and the durable, low-pilling properties are characteristic features of Dale of Norway, as is an environmental conscience: Production is made using sustainably-generated energy from waterfalls in the Dale valley.

Length women's zip neck pullover in size 14-16: 59.5cm (23.4"). Colour: Cream/beige/navy. 100% virgin wool. Machine washable. Made in Norway.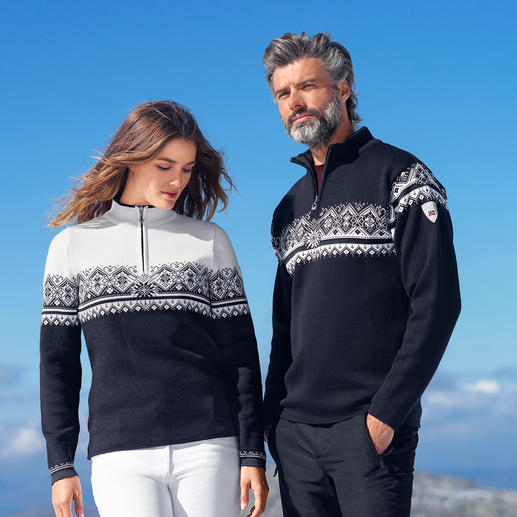 Be the first to review this product