Dale of Norway Norwegian Roll Neck Pullover
Dale of Norway Norwegian Roll Neck Pullover
The latest Norwegian pullover: In boxy style, with roll neck and large all-over pattern.
By Dale of Norway – outfitters to their national ski team since 1956.
With contemporary large designs on the front, back and sleeves instead of the typical pattern of classic Norwegian pullovers. The on-trend short, boxy silhouette is comfortable and casual, and the fashionable and warm roll neck makes a scarf unnecessary.
Thanks to baby alpaca wool it's wonderfully soft, fashionably fluffy, pleasantly light and not too warm.
The fine fibres from the young animals are particularly soft and fluffy (comparable to the fine undercoat of Mongolian cashmere goats.) The fibres are meticulously sorted by hand: Only those with a diameter of less than 19.5 microns and a length of 64-68mm (2.5"-2.67") meet the strict quality criteria.
Made in Norway since 1879.
Both the beautiful inlaid pattern and the high quality are characteristic features of Dale of Norway, as is an environmental conscience: Produced using sustainably-generated energy from waterfalls in the Dale valley.

Casual fit. Length in size 12/14: 65cm (25.6"). Colour: Navy/cream. 50% wool, 50% alpaca. Hand wash only.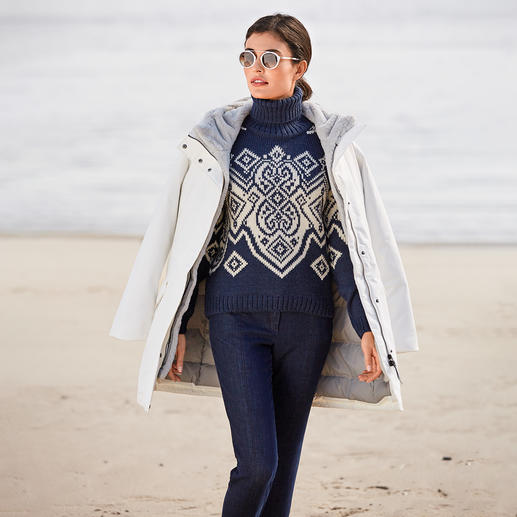 These on-trend pieces go well with 'Dale of Norway Norwegian Roll Neck Pullover':
Be the first to review this product