Alpaca Travel Pullover, women
A versatile basic in your travel wardrobe.
Alpaca Travel Pullover, women
A versatile basic in your travel wardrobe.
Your most important travelling companion. A pullover weighing only 7oz.
Pure baby alpaca wool. Hardwearing. Fine quality. And will stay beautiful for years.
You could hardly have a more pleasant and uncomplicated pullover. It's made of pure baby alpaca wool, light as a feather and delightfully soft. This rare luxury yarn hardly absorbs smells at all, has a delicate shimmer and is much more resistant to pilling than comparable soft yarns. Plus, alpaca is elastic. Even after being worn many times, this pullover will keep its shape perfectly.
A versatile basic in your travel wardrobe.
It will fit into any hand luggage, and can be draped around the shoulders or the hips like a warm scarf. Pleasantly light to wear, even under blazers and leather jackets. It can be worn with a long skirt, or wide trousers, on any number of occasions – casual and comfortable or elegant. Crocheted decorative border at neckline and cuffs – unusual but timeless.

Slightly fitted. Length in size 12: 59cm (23.2″). 100% alpaca wool. Hand wash. Exclusive to ­Fashion ­Classics.
Alpaca - Gold of the Incas.
The Alpacas graze on the high plateaux of the South American Andes, at a height of 4,000 to 5,000 m. Protected by their extremely resistant wool they are unaffected by extremes of temperature, hot or cold. This precious wool is rare, because alpacas can be shorn only every two years. Each animal gives off about 3.5 kg (7.7 lbs) of wool.
Baby alpaca is the first shearing of an alpaca, making it even softer and rarer. The alpacas – the treasure of the Incas – are so carefully and lovingly shorn that they never have to suffer or feel the cold.
The fine alpaca hairs are covered in tiny scales which are particularly smooth. These reflect the light, giving the alpaca wool its typically delicate sheen. The extreme smoothness also prevents the fine, long fibres from entangling. This means that baby alpaca wool hardly pills at all, and it is also extremely durable, robust and hardwearing. A long-lasting luxury.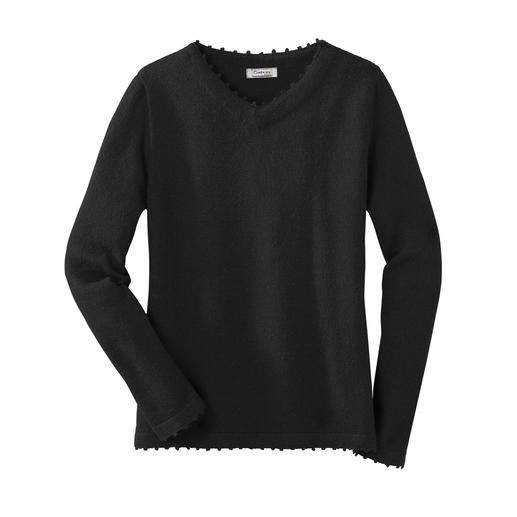 Be the first to review this product