Phil Petter Knitted Linen Cardigan
Phil Petter Knitted Linen Cardigan
In summer, it is more pleasant, smarter and more beautiful than any tailored jacket.
Cardigan made of pure linen. By Phil Petter, Austria.
Hardly any other natural fibre is as suitable for summer as pure linen. In addition, pure linen absorbs and releases moisture more quickly and efficiently than any other natural fibre. It retains its cool freshness and you will never sweat unpleasantly in it. Plus, if it's carefully knitted, it hardly creases. This is why when it's hot, knitted linen garments are one of the very few options available if you have to dress formally and have to wear something with long sleeves.
A rare classic.
This jacket is a timeless, rare and unique piece which will become one of your favourites in your summer ward­robe for many years to come. It goes well with many styles of trousers, skirts, dresses and can be worn over numerous shirts and tops. Washing makes the cardigan softer and the knitting denser.

Slightly tailored shape with V-neck, button panel and two patch pockets. Length in size 12: 64.5cm (25.4"). Colour: Navy. 100% linen. Machine washable. Made in Austria. Exclusive to ­Fashion ­Classics.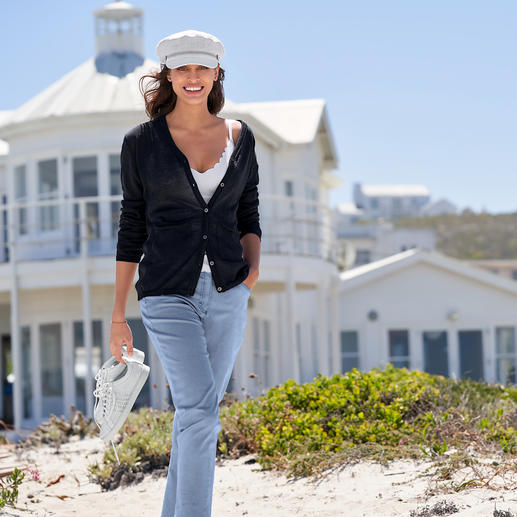 These on-trend pieces go well with 'Phil Petter Knitted Linen Cardigan':
Be the first to review this product