Kero Design Hand-knitted Jacket Multicolour
Kero Design Hand-knitted Jacket Multicolour
Hand-dyed and hand-knitted multicoloured cardigan that goes with every­thing.
A truly unique piece from the Andes. By Kero Design, Peru.
A truly unique pairing: Plain black bouclé yarn made from alpaca and hand-dyed merino wool with a colour gradient of more than 10 shades. The spectrum includes orange and yellow shades, berry and aqua tones and numerous mixed shades including lilac, petrol, coral etc. and can be combined with all plain coloured items in your wardrobe.
Knitted on thick needles by hand: A piece of traditional Peruvian craftsmanship.
3 days' work go into making every jacket. Moreover, each garment is unique and is a world apart from machine-made mass products. What's more, Kero Design is "Peru Fair Trade" certified since 2014.
Over-size and warm, yet pleasantly lightweight.
Ideal to wear outside as a mid-season jacket on fine days. On cold winter days it is cosy and warm worn over blouses, tops, long sleeved shirts ...

Straight cut, four-button style. Length in size 12: 66cm (25.9″). Colour: Multicoloured. 78% alpaca, 19% wool, 3% linen. Contains non-textile parts of animal origin: Genuine horn buttons. Hand wash only.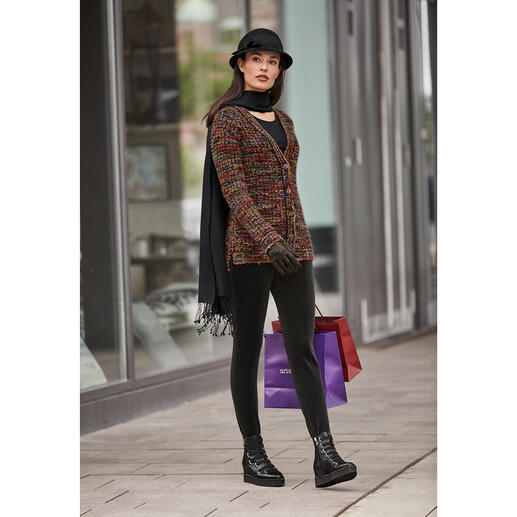 These on-trend pieces go well with 'Kero Design Hand-knitted Jacket Multicolour':
Be the first to review this product