Murano Glass Variable Necklace, Incl. Clip And Bead
Murano Glass Variable Necklace, Incl. Clip And Bead
Simple design – combined with Venetian splendour.
The sophisticated necklace with 925 silver vario-clip and interchangeable bead made of precious Murano glass.
Ten silver and gold shimmering steel strands encircle your neck perfectly. Coming together in a narrow bayonet catch, the strands create a constantly changing array of colour. The sophisticated eye-catcher is the 925 silver, bicoloured gold plated vario-clip with pendant bead made of Murano glass. Its deep glow comes from precious metals embedded within the Murano glass.
Subtly elegant thanks to its simple design.
Put on the delicate necklace: It is so light, that you'll hardly notice it. Discreetly two-tone, it goes with any other gold or silver jewellery – and everything your wardrobe has to offer.
The shimmering gold clip and the Murano glass bead create a new look in no time.
Gold plated 925 silver and fine polished silver edges echo the two-tone look of the necklace. The clip closure opens/closes the 8mm (0.3") wide, soft rounded vario-clip. The Murano glass bead is firmly attached but remains freely suspended.
Gold leaf implants in yellow and white gold give the Murano glass bead a mysteriously shimmering appearance.
The precious metal implants are fused with the glass, so that each bead assumes a unique pattern. Finely covered by colourless Murano glass, the bead is perfectly protected.
Two more interchangeable beads to order.
"Strada" with white gold inlay and black and white Murano glass accents is perfect around the clock. Cool shiny silver "Printemps" is surrounded by blue and white Murano glass. Each Murano glass bead is 12mm (0.5") in diameter and weighs 2.4g (0.08 oz). The necklace is 45cm (17.7") long. In beautiful gift box.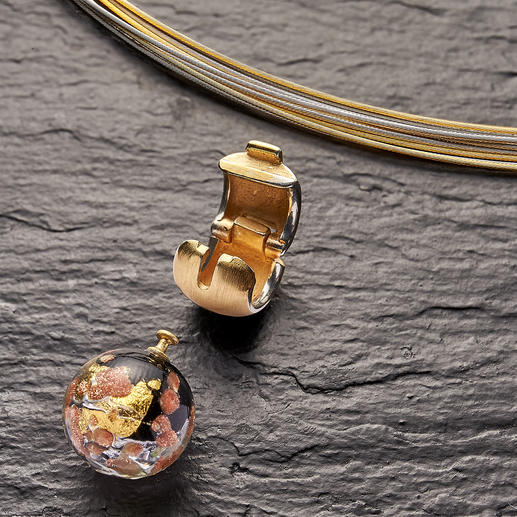 Be the first to review this product