06.04.2020 - We are still here for you. Standard delivery currently takes about about 5 to 7 working days. More
Better visibility for added safety: The Geox illuminated jacket with LED light strands.
Developed in cooperation with Osram, one of Germany's leading manufacturers of lighting solutions.
Bright white LED light strands in the raglan seams at the front and a red light strand in the lower back area make this jacket a glowing eye-catcher in the dark. Whether as a pedestrian, cyclist, on a scooter or skateboard – other road users can see you from a distance.
At the touch of a button you can switch between two light modes:
Permanent light visible from a distance for a normal environment. Warning flashes for particularly busy traffic situations. The LEDs are powered by an ultra-flat battery stored in the left inner pocket.
Water-repellent and windproof. With the patented Geox ventilation system.
Special ventilation strips in the shoulder area allow body moisture to escape upwards, while moisture from the outside cannot penetrate.
Italian fashionably slim, clean blouson cut.
Two zipped slash pockets. Two inside pockets with button closure (in the left one a USB port for the supplied charging cable and a control switch for the lighting system). Women's jacket with built-in hood and stretch cuffs.

Length in size 10: 64cm (25.2"). Colour: Black/grey, patterned. Upper and lining: 100% polyester.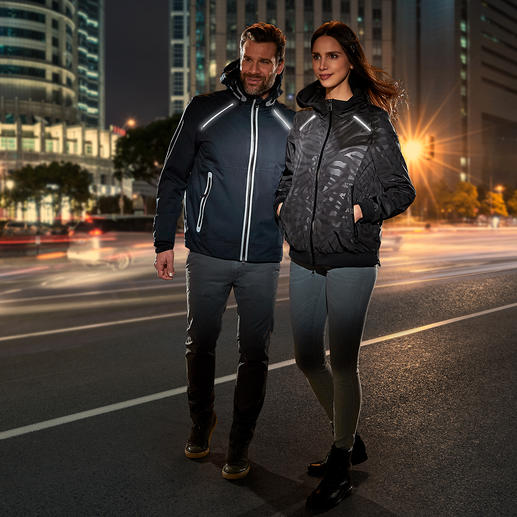 Be the first to review this product