Berghaus Hyper 140 Women's Jacket
Berghaus Hyper 140 Women's Jacket
Berghaus Hyper 140 - the first choice when every ounce counts.
Ultra-light. Absolutely waterproof. Extremely breathable. Ideal for mountain sports, running, cycling, ...
Just as light as a smartphone and measuring only 10 x 10cm (3.9" x 3.9") when folded up, this high-tech pocket size raincoat will fit in any daypack and even in a bumbag. Also, when wearing the jacket, it's barely noticeable. Even in heavy rain, it still stays 100% dry and is extremely breathable.
Unique: The combination of ultra-light, 20,000mm water column* and a MVTR value of 50,000g/m2/24hrs**.
What feels like a gauzy fabric is actually a fabric laminated with 3 functional layers: Tear-resistant 7-denier nylon on the outside; a waterproof membrane in the middle; and an inner layer that quickly transports body moisture to the outside. All seams and zips are sealed watertight.
Berghaus represents more than 50 years of experience of the outdoors, and supplies extreme athletes and exceptional alpinists***.
Founded in 1966 by two climbers, the British manufacturer has always been a leader in innovation and a specialist in functional waterproof clothing.
Slim, waisted shape. Elasticated hem, cuffs and edge of the hood. High-closing front zip with chin guard. 2 zipped pockets. Reflective print on the hood and on the logo on the left side of the bust. Length in size M: 69cm (27.2"), weight 137g (4.8 oz). 100% polyamide. Membrane made of 100 % polyurethane. Machine washable. Incl. 10 x 10cm (3.9" x 3.9") bag with belt loop. Colour: Red.

* 25 times the minimum requirement of 800mm for water resistance in heavy rain according to EU standard (EN: 343: 2010)
** MVTR = Moisture Vapour Transmission Rate. This indicates how much water vapour passes through 1 m2 of the material in 24 hours. At 10,000g/m2/24hrs, a fabric is considered to be very breathable. 50,000g/m2/24hrs is currently the best possible rating.
*** Including Leo Houlding, British climber extraordinaire and action filmmaker. Mick Fowler, 3 times winner of the "Piolets d'Or", the highest award in extreme mountain sports. And climbing icon Sir Chris Bonington, who was knighted in 1996 for his alpine achievements.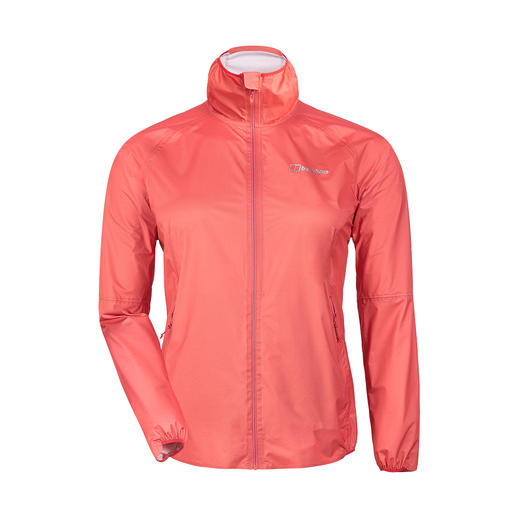 Be the first to review this product